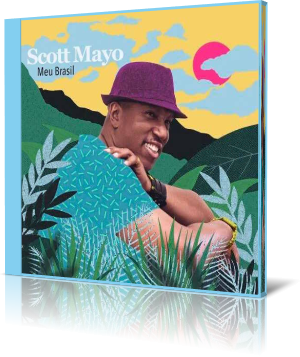 The third album by the African-American Scott Mayo is a tribute to Brazilian music, which I also love. Scott is a multi-instrumentalist, singer, producer, arranger, and musical director and co-composer for Sergio Mendes.

This is his first foray into the Brazilian genre, with samba, choro and Bossa nova. His previous albums 'Low Angle View' and 'Testimony' contain instrumental jazz and R&B.

But this new album has contributed to his musical life. He recorded most of 'Meu Brasil' at his Pipewind Sound studio in Pasadena. Other recordings took place in various studios in Los Angeles, Rio de Janeiro, Manila and Stockholm.

Scott said: "The album was completed during the pandemic, so it was a challenge to get everyone together in the same room. I used all the technology I had to finish the album, from receiving songs from all over the world to watching the strings being recorded in Manila from my studio in Pasadena! It was an incredible experience and I can't wait to share it all with the world."

Most recently, he appeared on screen and on the soundtrack for the 2022 movie 'Babylon', on Beyonce's amazing, Grammy-winning album 'Renaissance', appearing on the Grammy-winning single 'Cuff It' and John Legend's Grammy-winning albums 'Legend', 'Bigger Love', and 'A Legendary Christmas'. He also shot for the critically acclaimed television series ˜Better Call Saul', and was honored to perform at the inaugural ceremony of President Joe Biden and Vice President Kamala Harris.

Opener 'Ponta de Areia', composed by Milton Nascimento and Fernando Brandt, welcomes you to this tropical paradise. 'Trenzinho do Corcovado' follows, together with guitarist Guinga.

'Samba Gringo' swings wildly on a samba groove, and comes back later. This song was written and sung by his son Michael Mayo. 'Brigas Nunca Mais' is an original track by Tom Jobim & Vinicius de Moraes, while 'Piccoludio' forms a short intermezzo.

On 'Vista do Corcovado' you sway along to this infectious rhythm, followed by the well-known and cheerful 'Voce ja foi a Bahia' with Dorival Caymmi. "Don't Say Goodbye" is a song Scott wrote with Sergio Mendes and John Legend, and sings himself. 'Moacir Inspiracao' is also a short instrumental, followed by the duet 'Folhas Secas' on which Scott joins Dori Caymmi.

The instrumental and beautiful 'Magic' is a collaboration with Sergio Mendes. 'Onda Negra' sounds a bit funky, while the well-known 'Voce e Eu' is a cover. 'Valsa do Soprano' is an instrumental track, and 'Boa Noite Amor' closes with a soft love song.

A very nice and Brazilian sounding album that makes you dream of this beautiful country with my beautiful music!



Tracks:


Ponta de Areia

Trenzinho do Corcovado

Samba Gringo

Brigas Nunca Mais

Piccoludio

Vista do Corcovado

Voce ja foi a Bahia

Don't Say Goodbye

Moacir Inspiracao

Folhas Secas

Magic

Samba Gringo – reprise

Onda Negra

Voce e Eu

Valsa do Soprano

Boa Noite Amor



Scott Mayo


Copied with the permission of the author from culturmania.