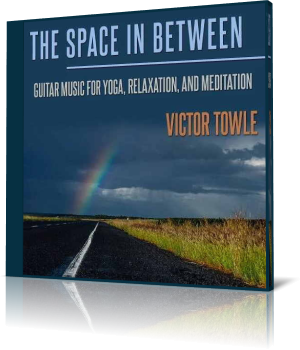 During the day, the American Victor Towle works as a social worker. He is also active as a songwriter and musician. He has already released 6 albums, and this is his third in the New Age genre.

However, his first musical influences were The Beatles, Bob Dylan, Cat Stevens, Jeff Beck, and The Grateful Dead. Victor played a mixture of jazz, rock 'n' roll, soul, gospel, and R&B with his guitar and harmonica.

He was compared to John Hyatt and Jackson Brown. But his acoustic New Age music is devoted to yoga, mindfulness and meditation. It should lead the listener to a relaxed state of well-being.

This new digital album contains 12 tracks, on which Victor plays 6 and 12 string acoustic guitars, baritone, electric and bass guitars, as well as guitar synthesizers. In this way, he creates an acoustic soundscape, which works perfectly for yoga, massage or simply in a lazy chair with a good glass of wine in hand.

Victor composed all the songs himself, and also produced them. The central theme of this album, 'The Space In Between', describes both the physical distances between things and the time that elapses between activities. The distance between storm clouds on the horizon, the time it takes for the rain to reach you, and again the space between the raindrops. But more importantly, it is a commentary on how we choose to experience these moments.

Ultimately, the awareness of the space in between is mindfulness and the acceptance of ourselves in the here and now.