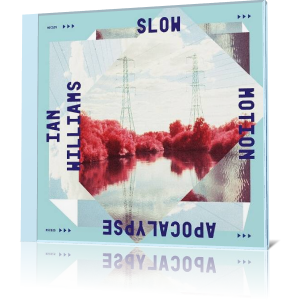 The new album by London-based composer & musician Ian Williams won't be released until November 3, but here's my review already.

It's an abrupt turn away from the minimalism of his previous release 'All Becomes Desert' from 2021. This time it's all about "impact," the epic devastation of a civilization determined to cut off its own life support systems. It's also a furious lament about the headlong rush to deplete the planet's precious resources to enrich a handful of non-visionaries whose main concern seems to be getting to Mars or buying football players...because that will certainly help.

Ian Williams began his music career in Edinburgh in the mid-1980s as founder of Beautiful Pea Green Boat, whose ethereal, atmospheric sound predated the fashion for dream pop by at least two decades. Various collaborations with the Lebanese choreographer Joumana Mourad and her contemporary dance company Ijad ensured that he fused Arabic/classical/techno/ambient styles. He then changed course and collaborated with singer Claudia Barton as Gamine, releasing two albums of dark, piano-led torch songs and lullabies.

Consider the music itself a rant, a protest against the beige-ness of the current fashion for music as a sedative for the masses. This is not music to meditate to and it does not provide a safe space for expressing warm and fuzzy feelings. Instead, it rages. Hybrid electronic-orchestral sculptures carved into the mountains, with gigantic avalanches of rhythm, pulled by an interlocking delirium of melody and noise.

Melody is the only ideal held sacred here. Imagine Aphex Twin mutating into 'Carmina Burana' via a spaghetti western detour, as heard in 'After We're Gone', or 'Magenta' with its spacey dub like a spy theme floating by, or 'Chronopolis' with his skyscrapers full of colossal piano chords as the soundtrack for a novel that Ballard never made into a film. After all, we might as well enjoy the dying light at the end of the world – what else can we do?

The album also contains Williams' current single, 'The Light At The End Of The World'. An intoxicating mix of bubbling sequencers, tribal beats and soaring synthesizers, it has a beautifully ethereal vocal melody and sounds like "Tangerine Dream meets Vangelis" while being accompanied by an inter-dimensional video shot somewhere between the Orion Nebula and Margate.