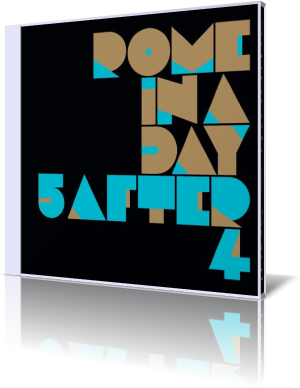 From Toronto, Canada, comes 5After4, a tight-knit quartet. Their sixth album, Rome in a Day (Alma Records, 2011) highlights excellent songwriting and group interplay.

The group is comprised of Johnny Johnson on woodwinds, Matt Horner on piano, electric piano and organ, Peter Cardinali on bass, horn arrangements and organ, and Vito Rezza on drums.

Collectively, the members have an extensive track record, having performed or recorded with an all-star cast of artists. Among them are Joey DeFrancesco, Joni Mitchell, Gino Vanelli, John Lee Hooker, Ray Charles, Anne Murray, Teena Marie, Diana Krall, Roberta Flack and Larry Carlton.

"10,000 Days" sets the tone early. This small band has the sound of a larger ensemble, thanks in part to Cardinali's horn arrangements and bass groove. Johnson leads most of the way on tenor sax, including a feverish middle solo. Composer Rezza, who also wrote four other tracks and contributed to "Animal Crackers," underscores the entire work with some deft work on the cymbals, toms and snare.

Horner penned and plays acoustic piano on "African Love Affair." The moderate tempo and ambient tone inspires visions of a couple taking a walk on the beach, or a romp through the woods. The intensity picks up at times, especially when the sax is out front.

Rome in a Day was recorded with no rehearsal before entering the studio, with minimal overdubbing. The result is 11 original songs featuring a dynamic quartet with no guests.