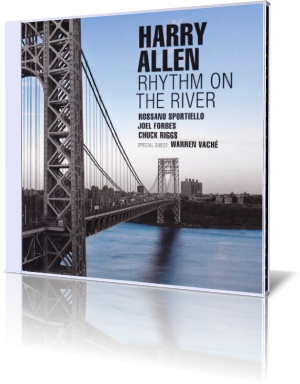 Inland waterways are the theme for Rhythm on the River (Challenge Records, 2011), by tenor saxophonist Harry Allen. It's a collection of 13 classic songs, all with titles that include the word "river" or the name of a big river.

Allen is supported by Rossano Sportiello on piano, Joel Forbes on bass, Chuck Riggs on drums, and special guest Warren Vache plays cornet on selected tracks.

The set begins with Hoagy Carmichael's "Riverboat Souffle," a delightful, Dixieland swing. Vache stands out for much of the piece, but it's the lively interaction among all the players that give this track its juice. Vache also contributes to "Lazy River," a tune that was part of the repertoire of such jazz greats as Louis Armstrong and Pete Fountain, among others.

Some of the other titles Allen and his crew take on are "Cry Me a River," "Roll On, Mississippi, Roll On," and "Old Folks at Home (Swanee River)."

Allen was born in Washington, D.C., in 1966. He received a bachelor of arts degree in music from Rutgers University. He's been featured on several John Pizzarelli recordings, including the soundtrack and an on-screen cameo in the film The Out of Towners, starring Steve Martin and Goldie Hawn. Allen's musical associations include Roosemary Clooney, Frank Wess, Kenny Burrell and Ray Brown.