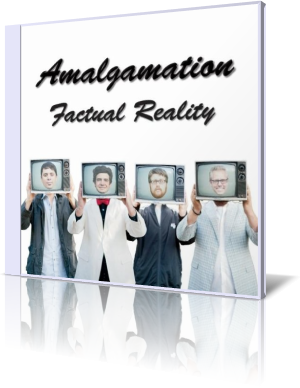 The fusion quartet Amalgamation has produced its second recording, Factual Reality (2011). It's an eclectic follow-up to their four-song debut, Therefore. On this tour, the group rocks more but also presents a mellow side.

Three members are graduates of Delta State University in Cleveland, Mississippi, and the fourth is from the University of Southern Mississippi in Hattiesburg. Based in the state's Delta region, Amalgamation consists of Ryan Betz, alto sax and keyboard, Matthew Wood, guitar, Chris Hartfield, bass, and Coday Anthony, drums.

The sassy "Drunk Kangaroo" opens the set. Hartfield's funky bass line holds it together while Betz's lead carries the song. Wood's middle solo has influences of Larry Carlton, mingled with some Carlos Santana and Jimi Hendrix.

"Patience," written by Betz, is as close to easygoing as this group gets. Wood softens the tone of his guitar, while Betz sets the sax aside to play keyboard. Though not necessarily a ballad, it's one that couples can enjoy a slow dance to. There is a passage toward the end where Wood cranks it up a bit, but the mood reverts to its quiet, "let's take it slow" approach.

Closing the set is "The Killer," penned by Wood. Sax and guitar meld for several high-speed phrases that capture the mood of this piece. The synchronization is crisp. During the middle, the quartet swings a little with Betz out front, supported by plenty of activity from the others. Hartfield enjoys a brief solo before giving way to Wood's controlled madness on guitar.

In its brief existence, Amalgamation has acquired a regional following, booking nightclub gigs and being the featured act for the Delta Symphony Association's "Jazz Tribute to the Blues." Selections from that concert are viewable on YouTube. Amalgamation is also on Facebook.