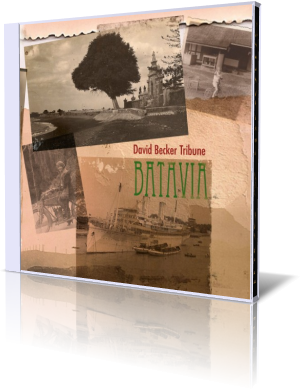 Most artists put a lot of themselves into their work. Batavia (Acoustic Music Records, 2010), by the David Becker Tribune, is more deeply personal for the leader. The 13-song album chronicles the experiences of his mother's family, Dutch nationals who endured captivity in Indonesia and Holland during World War II.

For most of the recording, Becker is accompanied by brother Bruce Becker on drums, and Bolle Diekmann on bass. An assortment of guests appears on selected tracks.

The title song's haunting mood captivates from the opening phrases. Becker plays electric and acoustic guitars. Russell Ferrante of the Yellowjackets is on acoustic piano, and Aniela Perry sits in on cello. Bass and drums are effective with their subtle, yet engaging, touches. Inspired by the Dutch name given to the capital of Indonesia, "Batavia" was the first port of entry for his grandparents when they visited the nation. Becker's lead is terrific, but the ensemble as a whole gives this an almost orchestral feel.

Another haunter is "Your New World," a piece Becker wrote with the thought of his grandfather and his bride as they adjusted to their new environment. Matias Rubino joins the ensemble, playing the bandonian. Bass and drums are more engaging this time around.

"The Invasion" features the core trio of Becker, Becker and Diekmann. Although upbeat in tempo, it represents the capture of Becker's mother and other relatives when the Japanese invaded Indonesia in 1942. The guitar is at times dissonant but always on the move. Diekmann really lets loose on the bass, adding an element of funk.

David Becker is a two-time Grammy-nominated recording artist. The David Becker Tribune has performed in 18 countries and has shared the stage with such luminaries as Miles Davis, Chick Corea and Michael Brecker.

The CD is accompanied by a 12-page booklet, which has photographs and brief explanations of the songs' meanings.


David Becker Tribune - Website