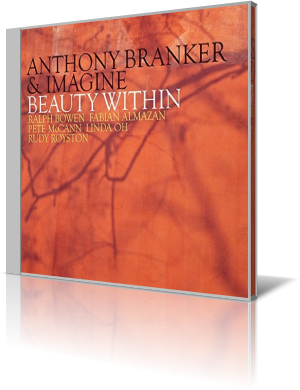 Where he leads, they gleefully follow. Anthony Branker and Imagine present Beauty Within (Origin Records, 2016), an engaging set of all-original music.

Branker is composer and musical director. The Imagine musicians are Ralph Bowen, tenor and soprano saxophones; Pete McCann, guitar; Fabian Almazan, piano; Linda Oh, double bass; Rudy Royston, drums.

Oh goes it alone to introduce the title song. The nearly two minute solo shows the bassist's dexterity. A little stick work from Royston cues the band. The song has a haunting, enchanting mood, whether Bowen or Almazan has the lead. Royston, rather than keep a steady beat, mixes rolls with independent strikes, deftly shifting from cymbals to toms and back. The melody is a duet between tenor sax and guitar. Entering the final phase, Bowen stretches out, bringing more energy and passion.

"Many Roads Beneath the Sky" is an epic display of musicianship. It begins in tranquil, haunting fashion. The group quickly warms up behind the tenor. Then a downshift, where Oh takes point, aided subtly by Almazan and Royston. The tenor returns after an upshift, and things rapidly heat up. McCann then cuts loose, freely exploring the range of his instrument. Short phrases, long phrases, rapid-fire sequences. Bowen comes back in for the conclusion.

Branker is an Origin Records artist who leads three groups: Imagine, World Play and Ascent. He was named Down Beat magazine's 62nd and 63rd annual Critics Poll as a Rising Star Composer in 2014 and 2015. Beauty Within highlights not only Brankers' compositional skills but also his effectiveness as a leader. Each song exhibits the strength of the group as well as the expertise of the soloists.