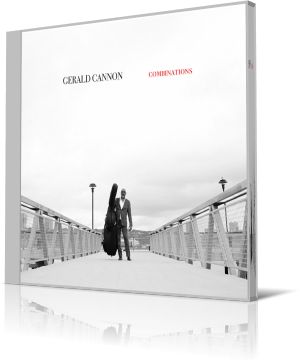 Bassist Gerald Cannon released his first album as leader, Gerald Cannon, then took some time out of the studio. A long time. Combinations (Woodneck Records, 2017) comes 14 years after the first.

The players are Gary Bartz, alto sax; Sherman Irby, alto sax; Steve Slale, alto sax on "Prelude to a Kiss"; Jeremy Pelt, trumpet; Duane Eubanks, trumpet on "Combinations"; Rick Germanson, piano; Kenny Barron, piano; Russell Malone, guitar; Wille Jones III, drums; and Will Calhoun, drums on "Gary's Tune."

"A Thought" shows the soft side of Cannon. This mellow piece has a bossa nova vibe, reminiscent of a Getz/Gilberto collaboration. Irby, Barron and Pelt assist on this one, each contributing in his own way. Irby and Pelt are out front much of the way. But Cannon and Jones handle plenty in the background.

Irby and Pelt team up again for the ballad, "Amanda's Bossa." Their two-part harmony is crisp, clean and glowing. Shortly into it, they step back and make room for Barron's elegant playing. After Barron, the horn players stretch out briefly before the song reverts to its main theme. Barron takes point on the fade.

Cannon brings a different element on Gary's tune. Bartz takes over on alto sax, Germanson plays the Fender Rhodes electric piano, Calhoun sits in on drums, and Malone makes an appearance. This is a cool, pop-jazz kind of groove.

Based in New York City, Cannon has an extensive encyclopedia of associations. Among the notables are Roy Hargrove, the McCoy Tyner Trio, Art Blakey's Jazz Messengers, Cedar Walton, and bands led by Dexter Gordon, Jimmy Smith, Joe Lovano, Monty Alexaneder, Stanley Turrentine and more.

In addition to being a jazz bassist, Cannon is a visual artist. His abstract painting appears on the inside fold of the CD jewel case.