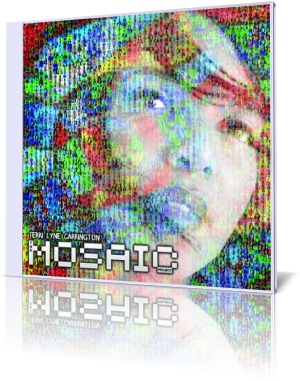 However you want to shake it up, Terri Lyne Carrington's Mosaic (Concord Jazz, 2011) captures the essence of the title in a big way.

For her fifth album as a leader, Carrington calls on the talents of 20 musical sisters, both instrumentalists and vocalists. From the liner notes: "As with mosaic artwork, the goal for this project is to vibrantly connect colorful pieces together to create something integral, using thoroughly composed song forms, some abstract improvising, and also the human voice – to create sharp shapes, with blurred edges."

Seldom does a recording meet such a goal so effectively, diversely and beautifully. From Carrington's arrangements of the Beatles' "Michelle" and Al Green's "Simply Beautiful," to the originals, "Wistful" and "Crayola," penned by Carrington and Esperanza Spalding, respectively, this set is as good as it gets, giving the listener some straight jazz instrumentals as well charming vocals.

Gretchen Parlato sings the a cappella introduction to "Michelle," quickly giving way to Carrington, pianist Geri Allen, trumpeter Ingrid Jensen and an uncredited bassist. The song is clearly a group effort, but each individual has plenty of space to step out front.

"Echo," written by Bernice Johnson Reagon," begins with the spoken word by social activist Angela Davis. Carrington adds percussion and vocals. Dianne Reeves is lead vocalist for this emotionally powerful piece. "The brother you lynched / a few years ago, the sister you raped / just the other day," she sings, summing up these and other tragedies as echoes of the past. Contributing musicians areJensen; AnatCohen, soprano sax; Sheila E., percussion; and Patrice Rushen and Helen Sung, piano and keyboards
.
Other women involved in the project are Dee Dee Bridgewater, Nona Hendryx, Carmen Lundy, Mimi Jones, Chia-Yin Carol Ma, Hailey Niswanger, TinekePostma, Shea Rose, Linda Taylor and Cassandra Wilson. Spalding is the only bassist listed, but the notes only credit her for two songs. And the liner isn't clear about which saxophonist – Cohen or Postma – is on a given track. It's a minor inconvenience to the average listener, but on a project that celebrates the contributions of these women to music in general and jazz specifically, it's a glaring oversight. On the plus side, the liner does have mosaic photographs of all.

Mosaic goes for it, providing a spending mix of structure and improvisation, stirring in a little sultry blues, fusion, be-bop and other variations.

Nominated for a Grammy herself, Carrington has been a part of several other Grammy-nominated projects. Her career began in the 1980s, when she broke onto the national seen as house drummer for the Arsenio Hall show. Since then, she has established herself as a lead artist as well as a session player for a wide assortment of artists and genres. A very short list includes Carlos Santana, Wayne Shorter, Hiram Bullock, Herbie Hancock, Jimmy Haslip and George Duke.