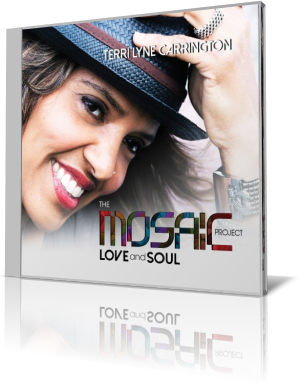 Then comes the romantic side of jazz. Drummer Terri Lyne Carrington dives deep into the realm of charm, affection and personal relationships with The Mosaic Project: Love and Soul (Concord Records, 2015).
Each of the 12 songs is fronted by a different vocalist. Carrington and the singers are accompanied by a variable lineup of all-female musicians. They are: Amy Bellamy, piano, keyboards, organ, Rhodes, Elin Sandberg, bass on "Come Sunday"; Angie Swan, guitar and acoustic guitar; Tia Fuller, alto saxophone and flute; Negah Santos and Zayra Pola, percussion; TLC, drums, programming, "additional" guitar and backing vocals; Rhonda Smith, Linda Oh and Meshell Ndegeocello, bass; Linda Taylor and Felicia Collins, guitar; Tineke Postma, soprano sax; Paulette McWilliams, background vocals on "For You to Love"; Valerie Simpson, piano on "For You to Love"; Rachel Z, Rhodes, keyboards and piano; Melissa Aldana, tenor sax on "For You to Love"; Elena Pinderhughes, flute; Tanya Darby, Arnetta Johnson and Ingrid Jensen, trumpet; Netta Ranaan, tenor sax; Geri Allen, piano on "Somebody Told a Lie"; Lalah Hathaway, background vocals on "Imagine This"; Lauren Fuller, keyboards, piano, Rhodes; Merissa Magdael-Lauron, trombone; Alyson Williams, background vocals; Patrice Rushen, piano and Rhodes; Helen Sung, Rhodes on "Can't Resist"; Regina Carter, violin on "You Just Can't Smile It Away"; Grace Kelly, soprano sax solo on "When I Found You"; DJ Val Jeanty, turntable on "When I Found You."

The singers, in order of appearance, are Natalie Cole, Chaka Khan, Oleta Adams, Jaguar Wright, Valerie Simpson, Nancy Wilson, Chante Moore, Lalah Hathaway, Carrington, Paula Cole, Ledisi and Lizz Wright.

The lone male listed is actor Billy Dee Williams, who narrates some tracks.

Star power is the selling point for this set. The singers are immensely popular, and the song selections pay homage to several songwriters whom Carrington counts among her influences. Among them are Duke Ellington, Frank Sinatra, Marcus Miller, Luther Vandross, and the team of Nicholas Ashford and Valerie Simpson. Carrington also composed six songs for the album, partnering with Wilson and Simpson for the songs they lead.

"Come Sunday," one of the songs narrated by Williams, is one of the jazzier pieces. Fuller and Bellamy get a moment out front during the instrumental break, and Cole shifts from lyrics to scat during the fade.

Khan leads "I'm a Fool to Love You" and complements Postma's solo with vocal fills. Carrington's background drumming is superb. Smith's bass line adds a bit of funk.

Other standout titles include "Imagine This," "This Too Shall Pass" and "Get to Know You."
Love and Soul has a strong R&B lean. But if you listen to R&B or "urban" radio, you haven't heard music like this since the 1970s. It's not jazzy from the perspective of extended instrumental breaks, but unlike contemporary R&B over the past 25 years, the musicians all play significant roles in supporting the vocalists. Every player gets noticed without necessarily having a solo. This is the kind of album that's perfect for the listener who wants to hear everything, from the congas to the rhythm guitar to the subtle changes employed by the bassist or the drummer.

Carrington won a Grammy for Best Jazz Vocal album for 2011's The Mosaic Project.
Born in 1965 in Medford, Massachusetts, she spent 20 years touring with artists such as Herbie Hancock, Wayne Shorter, Al Jarreau, Stan Getz, David Sanborn, Joe Sample, Cassandra Wilson, Clark Terry, Dianne Reeves and more. She gained widespread recognitions as drummer with the house band for late night television's Arsenio Hall Show and later on Vibe, hosted by comedian Sinbad. Other associations include George Duke, Everette Harp, Kirk Whalum, Jimmy Haslip, Greg Phillanganes, Christian McBride, Danilo Perez, Chuck Loeb, Dwight Stills, DeeDee Bridgewater and Esperanza Spalding.