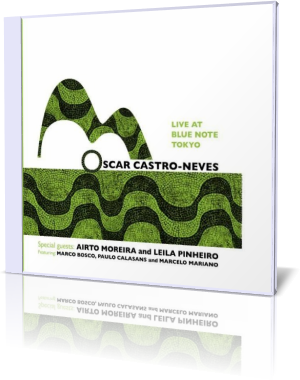 Blame this one on the bossa nova. Guitarist Oscar Castro-Neves takes on that musical style, a blend of jazz and traditional Brazilian rhythms, with Live at Blue Note Tokyo (Zoho Records, 2012). The project brings together old friends as well as shares the artist's thoughts about the similarities between Japanese and Brazilian music.
Castro Neves plays acoustic guitar, synthesizer guitar and sings. Fellow Brazilians assist him on this project. They are Airto Moreira, drums and, on selected tracks, caxixis, pandeiro and vocal; Leila Pinheiro, vocals; Marco Bosco, percussion, voice effects, birds and kalimba on "Tatiando"; Paulo Calasans, acoustic piano and keyboards; and Marcelo Mariano, electric bass.
The set begins with "Ela E Carioca," an enchanting piece that features Castro-Neves blending vocal scat with instrumentation. The song creates a vision of nighttime on a beach at Rio de Janeiro, with the moonlight reflecting off the surface of the ocean. Though the guitar is out front, all instruments are equally engaged.
The instrumental "My Sweet Sweetiepie," penned by Castro-Neves, is a leisurely stroll that takes a few side turns. Mariano does some interesting things in the background, Calasans leads the tour during the middle break.
"Rio" features Pinheiro on vocal. Like all the other tracks, the accompaniment here doesn't overpower but is effective enough that the listener enjoys more than just the lead. One can visualize the beauty and charm of the city whose name, in English, means "River of January."
Castro-Neves is Grammy-winning producer and one of the founding figures of bossa nova. He has worked and recorded with Stan Getz, Sergio Mendes, Yo-Yo Ma, Michael Jackson, Barbra Streisand, Stevie Wonder, Joao Gilberto and many others. Live at Blue Note Tokyo captures highlights of seven nights performed at the club in 2009.