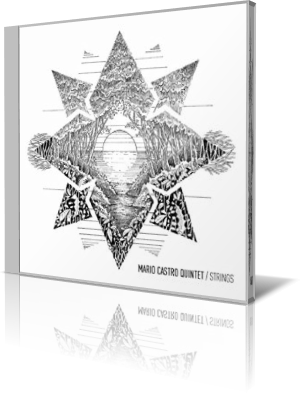 Take two musical ensembles, a jazz band and an orchestral, give them some original songs and eclectic arrangements, and you might get something like
Estrella De Mar
(Interrobang Records, 2014) by the Mario Castro Quintet, accompanied by a string ensemble.
The quintet is comprised of Mario Castro, tenor sax; Josh Shpak, trumpet and flugelhorn; Tamir Shmerling, upright bass; Kyumin Shim, piano; and Jonathan Pinson, drums. A few special guests appear here and there, an eight-piece string section accompanies, and two percussionists contribute.
This is nice. Thatís the first thought that comes to mind when playing ďPilares.Ē Youíve got easygoing jazz, augmented by a string section that gives it a chamber ensemble feel. The music can be effective simply for listening pleasure, or it could underscore the opening scene or credits of a feature film. Castro just lays it down and plays to his heartís content, complemented by the different elements of the band, whether itís the strings, the horns or the rhythm section. Special guest David Sanchez joins on tenor sax.
Vocalists J. Hoard and Jamie Woods join for the title song. The instrumental opening features a delightful call and response between Castro and the strings. When the voices come in, they provide an ethereal, wordless chant that adds a haunting effect. Castro stretches out plenty, but so do members of the quintet, especially Pinson.
Castro is a 2011 Berklee College of Music graduate from Humacao, Puerto Rico. Among those he has studied with are Terri Lyne Carrington and Hal Crook. Castro has earned praise from veteran saxophonist Dave Liebman, who appears as a guest on
Estrella De Mar
.