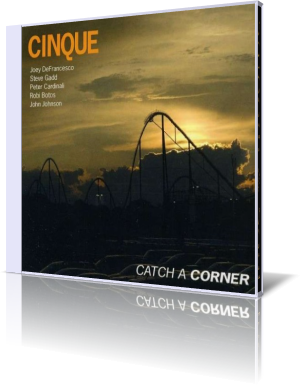 Cinque is comprised of drummer Steve Gadd, bassist Peter Cardinali, Hammond B3 organist Joey DeFrancesco, pianist Robi Botos, who also plays Fender Rhodes, and saxophonist John Johnson.

The set begins with "Conflicting Advice," a laid-back groove that highlights the entire band. Cardinali's bass is present throughout, and his horn arrangements add a dose of funk. Johnson leads early on, but Botos and DeFrancesco take turns letting their fingers do the talking. And through it all, Gadd shows why he's been in demand for so many years, adeptly underscoring whatever else is going on.

"Two Worlds" is a charming ballad. Gadd softens up his drum play, and Cardinali plays a leisurely but elegant bass line. Johnson leads most of the way, with Botos contributing on the Fender Rhodes. The piece has a bossa nova flavor.

The title song is another funky groove. The organ and the electric piano trade lines on the opening melody. Gadd mixes it up on the toms to bridge the opening sequence and Johnson's lead. Some wah guitar effects are thrown in to spice up the funk.

The best title award goes to "Over the Humpty Dump," which may also be the coolest track. Its sweeping, 3/4 rhythm is punctuated by Gadd's timely hits on the cymbals and snare. The horns give it a small, big band sound. DeFrancesco is the highlight with his maneuverings on the B3.

Six of the eight tracks of Catch A Corner were written by members of the group. The last two tracks are covers of songs by Cedar Walton and Paul Simon.