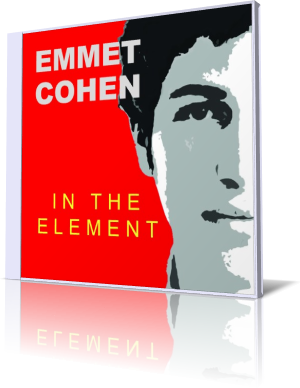 To follow conventional wisdom, one might presume a 21-year-old musician who chooses to play jazz might go for the trendy – you know, the type of material that experts say appeals to a "younger audience." That generally means a small band led by an electric guitar or a saxophone, wherein the music is closer to pop instrumental than it is to jazz.

Pianist/composer Emmet Cohen shatters that illusion with In the Element (Bada Beep Music, 2011). Displaying the maturity and confidence of an old-school jazz master, Cohen presents an eclectic mix of original songs and standards, all done in the basic, acoustic trio format. His accompanists are bassist Joe Sanders and drummer Rodney Green. Trumpeter Greg Gisbert appears on selected tracks.

"Resentment (Without Reason)," one of four penned by Cohen, is a bit of a smorgasbord. Several times, the trio changes pace and mood. Whether up-tempo or laid-back, all three players are locked in, each emoting in his own way while complementing one another. Cohen's play can, at different times, be compared to that of Chick Corea, Bob James or any of several classic jazz pianists. Toward the end of the piece, Cohen and Sanders step back so Green can stretch out.

The title song is a dynamic piece that features some tight syncopation, particularly during some stop-time phrases. Green switches things up from time to time, emphasizing background rhythm here and showcasing the toms and cymbals there. It's one of the shorter pieces in the set, but the high-speed chase gives the listener a lot to hear.

In addition to Cohen's originals, In the Element features fresh interpretations of classics by Cole Porter and the team of Rogers and Hart, as well as a few other titles.

Cohen began taking lessons at the age of 3. He later studied classical music in the youth keyboard program at the University of Miami and, at the age of 10, was accepted into the Manhattan School of Music pre-college division. His mentors include Cecil Brooks III and Dave Stryker, and he has shared the stage with such luminaries as Christian McBride, Joshua Redman, Patti Austin and Maceo Parker.

Cohen performs regularly in the New York and Miami areas.