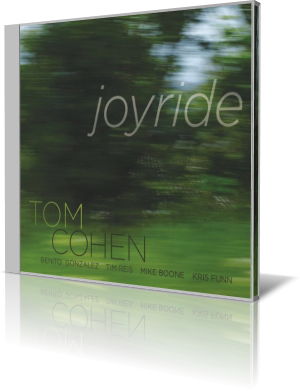 Drummer Tom Cohen mixes old with new in his fourth release, Joyride (2016).

Accompanying Cohen are Benito Gonzales, piano; Kris Funn, bass; Mike Boone, bass; and on selected tracks, Tom Ries, tenor and soprano saxophones.

After a brief introduction titled, "Desi/Lucy," Cohen and the gang get busy with Wayne Shorter's "Black Nile." Gonzalez leads, with Cohen and Funn jamming it up in the background. It's a high-energy, finger-snapping song. The piano rolls on a frenetic pace. At the midway point, the piano brings it way down, as the bass comes forward. After Funn's solo, Cohen cranks up the heat, showing his dexterity in a back and forth with the others. The trio plays a sequence, then Cohen stretches out on his own. They do this several times before reverting to the theme.

Ries joins the trio for a song he composed, "What Will We Tell Our Children." With the soprano sax, Ries leads the ensemble on a passionate, dramatic story. Use your imagination as to which of the myriad possible scenarios in which an adult may feel sad or embarrassed about a given situation. After the piano solo, Ries returns. The music softens toward the end, indicating optimism that we'll get through this and solve the problem. Boone handles bass duties on this track.

Cohen also covers compositions by Herbie Hancock, Bronislaw Kaper and others. The ensemble freshens up such classics as "Dolphin Dance," "On Green Dolphin Street" and "Old Folks."
Scattered throughout the set are short pieces written by Cohen.

Cohen is a fixture on the Philadelphia music scene, where he's spent more than 40 years. He has been associated with an assortment of luminaries, including Donny McCaslin, Ernie Watts, Ralph Bowen, Charles Fambrough and Pete McCann, among many others. The title, Joyride, reflects Cohen's sense of musical freedom with anticipation of the unexpected.