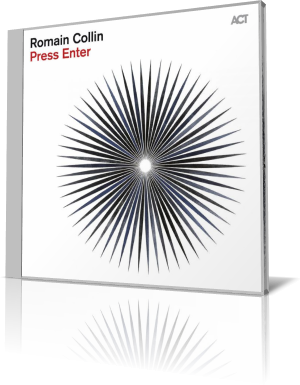 You're at your keyboard. You've composed a cover letter, updated your resume or finished that manuscript you've been working on for years. Now what? Press enter. Those two words, uttered by legendary saxophonist Wayne Shorter proved the inspiration for pianist Romain Collin's third release as a leader. Press Enter (ACT Music, 2015) is Shorter's advice taken to heart.

Collin met shorter and Herbie Hancock while touring India and Vietnam with a band from the Thelonious Monk Institute of Jazz. Musing on people who spend their lives planning and dreaming without taking action, Shorter uttered those two words: press enter.

Accompanying Collin are bassist Luques Curtis and drummer Kendrick Scott. Guests who appear on selected tracks are Mino Cinelu, percussion; Megan Rose, vocals; Jean-Michel Pilc, whistles; Grey McMurray, guitar; and Laura Metcalf, cello.

"Clockwork" is an upbeat selection that has an ambient quality. The song has two primary themes. In one, Collin plays as though providing the soundtrack to a film that's on fast forward. The other is sort of a march, set by the snare. Other moods move in and out, with the trio playing more as equals than as two accompanists behind a leader.

"The Kids" is a playful, day at the park song. It's a crisp, sunny, breezy afternoon. Pilc whistles along to the delightful chorus. Though Collin is out front all the way, Curtis and Scott inject a little deviation from their base rhythms. About midway through, the song downshifts, as if isolating on a small group of children who've separated themselves from the larger crowd. Then, as the trio rejoins the rest, the tempo picks up for the finale.

Collin attended the Berklee College of Music. He is an experienced composer of film music with multiple, orchestral soundtracks to his credit. In 2007, he graduated from the Monk Institute. He has shared the stage with Marcus Miller, Terence Blanchard, and he's studied with Larry Goldings, Russell Ferrante, Ron Carter, Charlie Haden, Mulgrew Miller and Wynton Marsalis. Collin's previous recordings are The Rise and Fall of Pipokuhn (Fresh Sound, 2009) and The Calling (Palmetto, 2012).