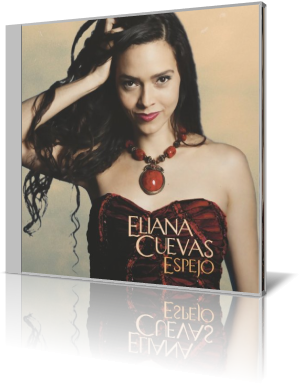 Latin music from Canada? Sure. Eliana Cuevas delivers some stunning, South American vibes on
Espejo
(Alma Records, 2014).
Already a winner for Best Latin Album by Independent Music Awards,
Espejo
is a set of 10 original songs. Her accompanists throughout are Mark Kelso, drums and percussion; and her husband, Jeremy Ledbetter, piano, melodica, keyboards, Fender Rhodes, mandolin, recorder and percussion. Ledbetter composed "El Tucusito." An assortment of other musicians contribute to selected tracks. Ledbetter and Cuevas wrote the music for "Agua, Cangrejo Y Sal," with Cuevas also writing the lyrics. Cuevas gets solo writing credits for the remaining eight songs.
"Estrellita" starts things off. This high-energy, danceable tune features Cueva's charming voice accented by Kelso, percussionist Daniel Stone and an appearance by Alexander Brown on flugelhorn. Bassist George Koller gets a few licks in as well. Cuevas also layers, singing backup as well as lead.
"Nacera," at just over five minutes, is the longest track in the set. It begins slowly, quietly with the piano. Cuevas sings softly, her voice charming and soothing. Then, just as the listener is about to fall into the spell, the tempo picks up and the percussion comes in. Luis Deniz steps in for a riveting alto sax solo, complemented by Ledbetter's recorder.
"El Tucusito" presents Cuevas delivering a high-speed scat, tightly syncopated with the piano. The scat is like the blend of a string section with woodwinds of a symphony orchestra. Then she shifts into a more rhythmic chant while the piano goes Latin. Again, just as the listener adjusts to the change, a layered high-speed scat scores underneath the chant. All stops for Ledbetter's mandolin solo. When he finishes, Cuevas comes back in for the furious finale to the piece.
Cuvas is a native of Venezuela who is now based in Toronto. The musicians are all either from Toronto or Venezuela. Cuevas won a 2003 Latin American Achievement Award as Vocal Artist of the Year. She's been nominated for a Toronto Independent Music Award, which she won in 2007, a Canadian Folk Music Award, a National Jazz Award (she won as Latin Jazz Artist of the Year in 2009).