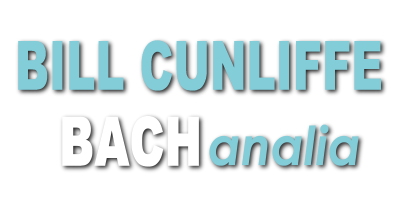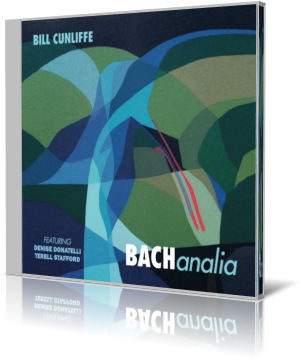 A play on words and the melding of two genres of music is the result when pianist Bill Cunliffe put his creative energy toward two passions. His effort comes through with BACHanalia (Metre Records, 2017).

The ensemble consists of varying combinations of players. On trumpet are Wayne Bergeron, John Daversa, Dan Fornero, Jamie Hovorka, Kyle Martinez, Kyle Palmer, Terell Stafford and Bob Summers; trombone: Ryan Dragon, Erik Hughes, Alex Iles, Andy Martin, Bob McChesney, Ido Meshulam, Ira Nepus and Francisco Torres; bass trombone: Ben Devitt, Cody Kleinhans and Bill Reichenbach; alto and soprano saxophone, clarinet and flute: Jeff Driskill, Nathan King, Brian Scanlon and Bob Sheppard; tenor saxophone, clarinet and flute: Jeff Ellwood and Rob Lockart; baritone saxophone and bass clarinet: Tom Peterson and Adam Schroeder; guitar, John Chiondini and Larry Koonse; bass: Alex Frank and Jonathan Richards; drums: Joe La Barbera; and vocals: Denise Donatelli. Cunliffe also provides background vocals on "Sleepers Wake."

Donatelli's delightful scat sets the tone for the opening track, "Sleepers Wake." With a muted trumpet and the trombone offering countermelodies, she flits and dances to this upbeat arrangement of the Bach classic. After a vocal and horn section swell, the music softens for the leader's solo. Accompanied only by bass and drums, Cunliffe expresses freely, licking his improvisational chops, occasionally giving hints of the main theme. McChesney also stretches out. Donatelli's voice takes on a haunting mood as the song downshifts to its closing.

A cool bass line and soft horns welcome the Cunliffe original, "Affluencia." The pieces warms up to a soulfull, hip soundtrack, worthy of a 1960s or early '70s detective series or movie. Think Shaft or Kojak. Sheppard's soprano sax solo is the highlight. Early on, he takes it easy, accompanied by the core trio. But as the intensity builds, the horns come up ever so slightly, building into a dramatic return by the full band. Iles and Martin handle trombone duties, with one or both contributing brief leads. Sheppard continues to stretch out as the bind winds up for the finale.

In its early days, jazz and its essence of freedom was in stark contrast to classical, with the latter's rigidity toward following the script. "I was always a wannabe classical piano," Cunliffe says. Considering he was classically trained as a youth, the statement can be taken to mean the style and structure of European classical music wasn't his strong suit.

With BACHanalia, the artist reimagines compositions by classical masters Johann Sebastian Bach, Sergei Prokofiev and Manuel de Falla, hitting up Bach three times in this set of eight. He also throws in a Cole Porter classic and another by Oscar Levant and Edward Hayman. By infusing the pieces with big band arrangements, he delivers a package that is ripe for uninhibited celebration, or bacchanalia.