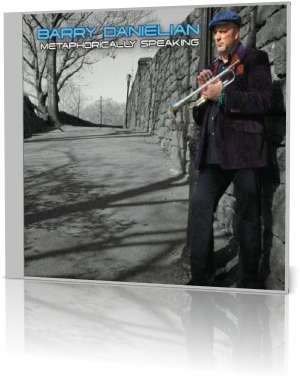 With an experience as part of the world's "most famous" horn band, Tower of Power, Barry Danielian has a long, distinguished track record as a session player and soloist. As a leader, he releases Metaphorically Speaking (Tariqah Records, 2013), an eclectic mix of jazz, world music and funk.

A trumpeter, producer and arranger, Danielian has toured and performed with some big names, including Bruce Springsteen, Barbra Streisand, Billy Joel and James Taylor. He also spent several years with the trio known as the No Sweat Horns, which appeared on several recordings by Spyro Gyra in the 1990s.

"Turning Inside Out" is an adventurous piece that begins with a bit of jungle funk. Danielian blends with Pillow for the lead much of the way. Each layers multiple instruments. Pillow plays flute, alto flute and bass clarinet. Danielian provides trumpet, Rhodes, Clavinet and elegant string synths. The composition is like a soundtrack to an adventure sequence in a movie, enhanced by the percussion of Bashiri Johnson and the funky bass line of Hubert Eaves IV.

"In the Land of the Blind" is a bit of a socio-political statement. Danielian makes good use of technology, blending programming and an assortment of sounds with conventional instruments for a piece that's part funk, part symphonic. Lawrence Feldman contributes flute, alto flute and bass flute. Mike Ciro's guitar riffs add a nice touch. Ralph Rolle's drum play is supplemented by Danielian's programming. The leader's solo injects some Randy Brecker-like commentary.

The title song is an easygoing groove that enlists David Mann on flute, alto and tenor saxophones. Sherrod Barnes sits in on guitar, with Buddy Williams taking the drum duties. The band impresses with some stop-time phrases during the flugelhorn solo. It's one of the more enjoyable selections on an album loaded with enjoyment.

Danielian attended the Berklee College of Music from 1980 until 1982, when he graduated with the Faculty Performance Award. He earned a bachelor of arts in jazz performance from William Paterson University. In 1984, he was honored with the University of Notre Dame Collegiate Jazz Competition's Outstanding Jazz Soloist Award. And in 2000 and 2001, he became the only unsigned artist nominated for the Oasis Smooth Jazz Awards.
Danielian composed all 12 tracks of Metaphorically Speaking.