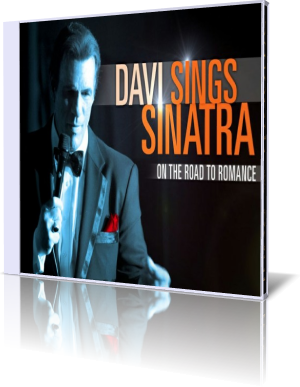 When an actor not known for his singing produces an album, the results can be unpredictable. One might score a solitary hit, like Jack Wagner, Patrick Swayze or Don Johnson. Or one can be like Eddie Murphy. His "Party All the Time" was popular when it was new. However, once the novelty faded, the song provoked thoughts of, "What was he thinking?"

So when I received Davi Sings Sinatra's – On the Road to Romance (Sun Lion Records, 2011), I was initially apprehensive. Please, no more standards! But then I remembered. Robert Davi gave us a hint of his vocal skills as a member of the notorious Fratelli family in The Goonies.

Davi takes on 12 standards, including "I've Got the World on a String," "In the Wee Small Hours of the Morning," "Nice Work If You Can Get It" and "Best Is Yet to Come." He croons easily in the style of Frank Sinatra. His voice fits comfortably in the upper baritone range, though he could easily shift to second tenor. The listener can feel the enthusiasm for this project.

Davi is a natural singer, and he studied opera as a young man. However, his acting career kept him out of the recording studio. Now, after more than 100 movies, television appearances and even directing a film, he returns to his love. The collaboration of Disney Music Group chairman Bob Cavallo and 14-time Grammy Award winning producer Phil Ramone brings Davi together with a 30-piece orchestra in the Capitol Studios of Hollywood, where Sinatra recorded many of his albums.

Davi's motion picture and television credits include Die Hard, Showgirls, License to Kill, Profiler, Stargate: Atlantis and Criminal Minds. This musical love affair may have started when Sinatra selected Davi to portray Mickey Sinardos in the 1977 television drama Contract on Cherry St.. Whatever the cause, the result is solid, entertaining debut release. Unlike many actors who try to sing, Davi was made for this.