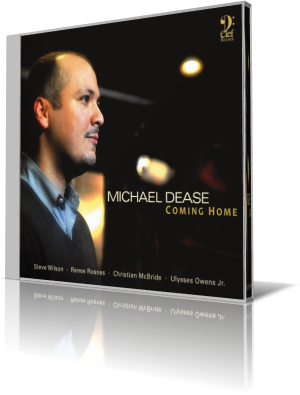 Throaty. Rumbling. Engaging. Those can be used to describe the sounds of trombonist Michael Dease on Coming Home (D Clef Records, 2013).

This set of 11 tracks, mixing original songs with covers, is straight jazz, no chaser. The core band for this outing consists of Steve Wilson, alto saxophone; Renee Rosnes, piano; Christian McBride, bass; and Ulysses Owens Jr., drums. Saxophonists Eric Alexander and Tony Lustig appear on selected tracks, and percussionist Andrew Swift sits in for one.

"Solid Gold," the first of five songs penned by Dease, is a solid groove. Dease and Wilson share the melody, with the former leading on the introduction and providing fills. The two engage in a light call and response as the song shifts from the intense opening to a more mellow mid-section. While Dease leads the way, Owens marks the trail with timely crashes and rolls. His work on the hi-hat accents Owens' solo.

Dease and company give fine treatment to his arrangement of Duke Ellington's "In a Sentimental Mood." Lustig plays tenor sax, blending in the background with Wilson during the opening sequence. The saxophones take turns out front, followed by something you don't hear much of these days. Dease mutes the trombone – with an actual mute that he designed, as opposed to an electronics-induced mute. The difference is noticeable.

The trombone generally is an ensemble instrument, with occasional solos. However, like the acoustic bass, it's rarely a lead instrument. Or, as McBride says in the liner notes, "To me, the trombone has some of the same unlucky traits as the acoustic bass – they're both instruments that take a little more work and sweat than some of the others to attain clarity of tone and articulation. They're both instruments that are considered odd by some when they're out front leading the band." However, the trombone is not so odd in this case. Maybe that's because Dease's original songs and arrangements ensure that every player gets time out front, so it's not so much about the trombone as it is the band and how it plays together.

Dease was born in 1982 in August, Georgia. He initially played alto and tenor saxophones. The switch to trombone came abruptly during his senior year in high school. He ultimately won four all-state competitions. His studies include the Julliard School, where he earned bachelor's and master's degrees in Jazz Performance.