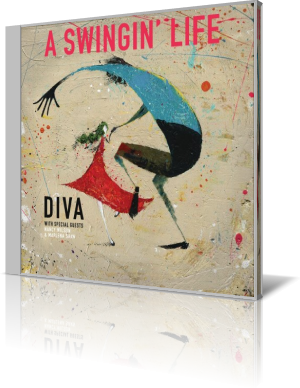 A rare offering, a 15-piece, all-female orchestra matched up with two classy vocalists. Diva presents A Swingin' Life (MCG Jazz, 2014).

A product of the Manchester Craftsman's Guild, the album offers 11 songs, recorded in two sessions. "Nothin'" and "All My Tomorrows" were recorded by MCG Jazz at the Guild in Pittsburgh. Appearing only on those are Karoline Strassmayer and Kristy Norter, alto saxophone; Anat Cohen, clarinet and tenor saxophone; Scheila Gonzalez, tenor saxophone; Leigh Pilzer, baritone saxophone; Liesl Whitaker, lead trumpet; Barbara Laronga, trumpet; Lori Stuntz, trombone; and Chihiro Yamanaka, piano.

The rest were recorded by Jazz at Lincoln Center at Dizzy's Club Coca-Cola in New York City. The musicians are Sherrie Maricle, drums and leader; Sharel Cassity, alto saxophone and flute; Janelle Reichman, clarinet and tenor saxophone; Roxy Cross, tenor saxophone; Lisa Parrott, baritone saxophone; Tanya Darby, lead trumpet and flugelhorn; Jami Dauber, Carol Morgan and Nadje Noorduhuis, trumpet and flugelhorn; Deborah Weisz and Jennifer Krupa, trombone; Leslie Havens, bass trombone; Tomoko Ohno, piano; and Noriko Ueda, bass.

The swing starts right off the bat with track one, "What the World Needs Now Is Love." Arranged by Ellen Rowe, this big band rendition of the song popularized by Dionne Warwick features a sizzling tenor sax solo by Reichman. The horn section is in full blast for the main body.

Pilzer arranged the dazzling rendition of "Pennies from Heaven." All pieces stand out in one way or another. Ueda gets into a groove during her bass solo. The track also features Parrott.

Wilson lends her voice to "All My Tomorrows" and "All of Me." Shaw steps in for "Blues Medley (Goin' to Chicago Blues, Kansas City, Every Day I Have the Blues)," "Blackberry Winter" and "Wonder Why."

Diva has released more than a dozen albums. The inspiration for the band came from Stanley Kay, a one-time manager and relief drummer for Buddy Rich. After conducting a band that featured Maricle, Kay picked up on her talent and sought other women who could perform at the same level. The foundation was laid in 1992. Diva has toured the United States and Europe, with performances as such prestigious venues as John F. Kennedy Center for the Performing Arts, Apollo Theater in New York, and the Playboy Jazz Festival at the Hollywood Bowl.