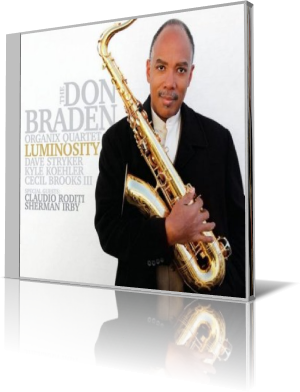 Cool, slick, warm, elegant. The listener gets some combination of those elements throughout Luminosity (Creative Perspective Music, 2015) by the Don Braden Organix Quartet.
The ensemble features Braden on tenor saxophone, flute and alto flute; Kyle Koehler, Hammond organ; Dave Stryker, guitar; and Cecil Brooks III, drums. Trumpeter Claudio Roditi and alto saxophonist Sherman Irby appear on one track each. No credit is given for a bassist, which usually means the organist covers the bass lines.

Stryker sets the tone for the bright, joyful "Luminosity (First Steps)." Tenor and organ perform a duet during the main theme. Then Braden takes off on a fun-filled jaunt. While he expresses, the others jam underneath. Koehler and Stryker keep it going when the baton is passed to them in succession. Brooks, who stretches out plenty underneath others, also gets a moment to shine.

Roditi joins the ensemble for the upbeat "I Could Write a Book." Trumpet and tenor blend for the fast-paced melody. Roditi is first to take point. Koehler demonstrates some impressive speed during his turn. After Braden's spirited romp, Stryker gets his licks in. After the solos, the melody resumes. Then Roditi and Braden feed off each other in alternating, sometimes overlapping ad-libs, before joining together for the finale.

Braden switches to flute for the energetic arrangement of "A Whole New World" from Disney's Aladdin. After a pass on verse and chorus, Braden gets creative. The rhythm is like that of a juiced-up waltz. This is an excellent example of taking what's known, giving enough to make it familiar, then exploring new territory.

Braden has recorded and toured with a number of jazz luminaries and has produced 19 albums as a leader. He grew up in Louisville, Kentucky, where he learned saxophone and flute, playing in school bands and getting into the funk and rock sounds of the 1970s. Braden attended Harvard University as an engineering major, but turned to his love of jazz. He has written hundreds of compositions for various ensemble sizes, including orchestra. Some of his music appear on television and in film. He is a jazz educator and conducts workshops around the world.

The Organix quartet appears on all tracks, except "Chelsea Bridge," which Braden plays solo.