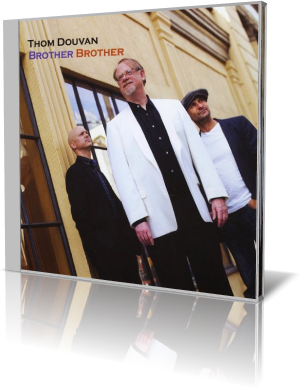 Apart from a few selections from dance music and R&B from the 1980s and '90s, it's all about the soul – even the blue-eyed kind. Guitarist Thom Douvan presents Brother Brother (2014), a 15-song tribute to the Funk Brothers, with whom he has played.

Douvan spent much of the '80s performing with a group of former Motown session men, who were collectively known as the Funk Brothers. They were the background to many Motown hits in the 1960s and '70s. And some of the members went on to record more of the hits that are referenced here.

Accompanying Douvan are Duncan McMillan, Hammond B3 organ; Tony Malfatti, saxophone; with drum duties split among Ralph Penland, Frank Wilson, James Gadson , Michael Barsimanto and Tony Moore. Bobby Pierce takes over on the organ for one song.

A swinging rendition of "Harvest for the World" opens the set. Douvan leads the melody with McMillan answering his calls during one sequence. The background rhythm shifts from something basic to a hint of bossa nova. McMillan then takes the B3 on a journey, at times make it seem like its own orchestra. A flourishing chorus sets up the ending. The Isley Brothers must be smiling.

McMillan runs point on the cover of Earth, Wind & Fire's "That's the Way of the World." Where the vocals drop out of the original for a guitar solo, Douvan does his own thing. No attempt at all to mirror or even show tribute to the earlier work. That keeps this from being a simple instrumental copy of the song. It is distinct, with the laid-back groove in the background and the organ handling the vocal part.

Douvan leads on the Hall & Oates classic, "Sara Smile." The mood and pace are much like the original. With the exception of a brief ad-lib, he plays it straight. Still, it's a nice twist on an old favorite.

Douvan has been a professional musician for 40 years. He studied at Berklee College of Music. Growing up in Ann Arbor, Michigan, he began playing with the Funk Brothers in 1985. Brother Brother is Douvan's second release as a leader.