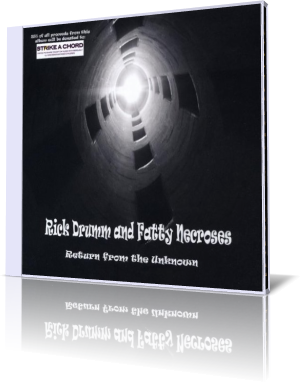 Fusion? Blues? Jazz buffet? Whatever it is, Return from the Unknown by Rick Drumm and Fatty Necroses challenges the listener to step outside that comfort zone of the familiar and the catchy, and appreciate something that has depth and strays, happily, from the beaten path.
Drumm, a drummer, is a proverbial late bloomer. A longtime business executive, he was 47 when he went to college and earned an MBA. He was 55 when he made this debut recording. Drumm draws inspiration from the early days of fusion, admiring such artists as Return to Forever, Miles Davis, Weather Report and the Crusaders.
Drumm is supported by Fred Hamilton and Corey Christiansen on guitars; John Benitez on bass; Axel Tosca Laugart on piano; Frank Catalano on saxophone; Mike Brumbaugh on trombone; and Pete Grimaldi on trumpet.
"Fatty Necrosis Sings the Blues" is inspired by the medical term for a condition left after a patient survives non-Hodgkin's lymphoma, which Drumm experienced. The song may be an instrumental expression of Drumm's being sidelined with the disease, but his musician friends came to his house for a concert. All the players get an opportunity to stretch out, and the interaction among them is superb.
"Indi Funk" jams from the opening notes. The guitars are out front much of the way, but the horns stay busy throughout, sometimes individually and sometimes as a unit. The base groove is consistent, but the seemingly ad-libbed fills are what make this song rock.
Hamilton wrote the first three songs of the set, and Christiansen wrote the rest.
Drumm is contributing 25 percent of the proceeds for Return from the Unknown to Strike a Chord USA, a charity that supports seriously ill or disadvantaged children by donating instruments and professional music tutoring. The program also offers children a chance to play in a band or record in the Music 4 Life program.