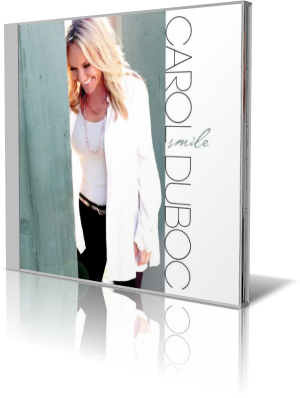 For a change of pace, hear Carol Duboc's
Smile
(Gold Note Music, 2013). Most vocal jazz albums revisit the American Songbook, classic songs that originated upwards of 50 years ago and have been covered dozens of times. Duboc is one who opts for a more contemporary sound, pairing original music and lyrics with a modern vibe.
It doesn't hurt that her writing partner and band member is Jeff Lorber. The pair composed nine of the 10 tracks. Duboc teams with pianist Tim Carmon on "Behind a Kiss," the only track on which Carmon plays.
Accompanying Duboc are Jeff Lorber, keyboards, Moog, guitar on "Telepathy"; Tim Carmon, piano on "Behind a Kiss"; Vinnie Colaiuta, drums; Michael Thompson, guitars; Brian Bromberg, upright bass; Jimmy Haslip, electric bass; Hubert Laws, flute; and Luis Conte, percussion.
The title song was inspired by the hope Duboc saw in her daughter's smile. She cried as she wrote the song, coping with the end of her marriage. The song is a tribute to the strength found in surviving a trying experience. The melody and background express those feelings with beauty.
"Atmosphere" opens with an elegant guitar phrase by Thompson. Duboc's voice charms, particularly during the layered chorus. The background is subtle but engaging. "Mythological" is an upbeat closer. Duboc's whispery vocals and Brombergs bass line are highlights of this song.
A native of Kansas City, Missouri, Duboc debuted in 2001 with
With All That I Am
. She's made a name for herself with "urban" jazz tunes, which basically is a different spin on the R&B-infused smooth jazz. Over the years, she has authored songs that contributed to gold and platinum-selling albums by Patti LaBelle, Chante Moore, Tom Jones, Stephanie Mills, George Duke, Maurice White and Fine Young Cannibals. She was also a special guest of the all-star Ladies' Jazz Series with Sarah Vaughan, Jane Monheit, Diana Krall and Dinah Washington. Duboc also appeared in the 2005 film,
Be Cool
, featuring John Travolta, Uma Thurman and Danny DeVito.