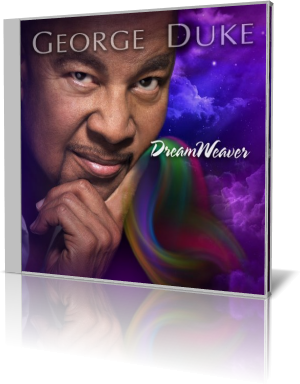 It is a bittersweet thing to announce the release of George Duke's
DreamWeaver
(Heads Up, 2013). The Grammy award-winning keyboardist, composer, producer and arranger died on Monday, August 5, 2013, just weeks after his latest recorded became available.
Duke began work on the project after the death of his wife, Corine. At first, he didn't feel like creating any music. Then, after a cruise where he checked out some other bands, a couple of songs came to him.
"DreamWeaver" is a short piece that opens the set. It's an appropriately haunting piece that sets the stage for an eclectic adventure of sound. It's followed by "Stones of Orion," featuring bassist Stanley Clarke, a longtime friend and collaborator. Also performing on this groove are Gorden Campbell, drums; Daniel Higgins, flute; Everette Harp, alto sax; Kamasi Washington, tenor sax; and Gary Grant, trumpet. Duke doubles on acoustic piano and synth. The track is accented by Duke's beautiful piano play and Clarke's acoustic bass solo.
"Missing You" is a slow, R&B-style tribute to Corine. Duke sings lead with backup from Rachelle Ferrell, Lamont VanHook and Jim Gilstrap. Also on the track are Campbell, guitarist Jef Lee Johnson and bassist Larry Kimpel.
Johnson and Kimpel have extensive work with Duke, appearing together during his performance at the Montreux Jazz Festival, captured for the Warner Bros. Jazz release of
Casino Lights '99
, which featured one of Duke's signature songs, "Brazilian Love Affair." Johnson was also part of Duke's band when he recorded
Face the Music
(BPM, 2002).
"Brown Sneakers" is a cool, instrumental piece. Michael Manson steps in on bass, with Paul Jackson Jr. on guitar, Lenny Castro on percussion and Campbell again on drums. Duke plays the Rhodes, Arp Odyssey, Mini Moog and Prophet 5. This is the keyboard side of Duke at his best.
The late Teena Marie wrote and is featured on "Ball and Chain," a soul-blues piece with Duke handling drum and synth programming, Washington, and trumpeter Michael "Patches" Stewart. Duke worked with Marie on
Congo Square
(Stax, 2009). Afterward, Marie wanted him to produce a full-length jazz album. "Ball and Chain" was a song they crafted before Marie's death in 2010. Duke offered the song to
Beautiful
, Marie's posthumous 2013 disc, but her producers declined. With the blessings of Marie's family, Duke added horns and released it here.
Something seldom heard in studio sessions nowadays, Duke delivers an intense, 15-minute song, "Burnt Sausage Jam." The band consists of Johnson, "Lil" John Roberts on drums, McBride, Stewart, Harp, Allen Kaplan on trombone, and Washington. Duke breaks out the entire keyboard arsenal: acoustic piano, Rhodes, Wurlitzer electronic piano, Castlebar Clavinet, Arp Odyssey, Mini Moog and Nord Lead. What you get is a smorgasbord of sound with a few side dishes, burnt sausage and probably a blown fuse or two.
Duke, who began playing jazz as a member of Cannonball Adderley's band, has had numerous collaborations over the years. Associations include Clarke, Michael Sembello, Rick Braun, Kirk Whalum, Gabriela Anders, Al Jarreau, Jean-Luc Ponty, Billy Cobham and Frank Zappa. He also played a piano bar owner in the short-lived daytime drama,
Generations
.