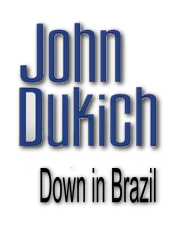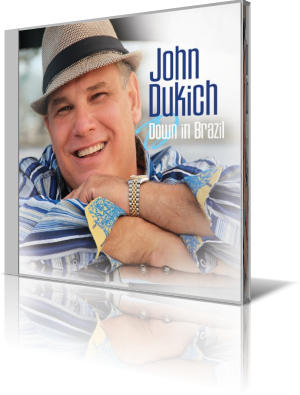 It's unthinkable that a person could experience Brazil and not get caught up in the wonder and variety of the South American nation's culture, particularly its music. John Dukich, like many before him, got caught up – so much so that he's created Down in Brazil (2012), co-produced with keyboardist Bob Baldwin and Brazilian percussionist Café De Silva.

Dukich made that musical venture 10 years after a weeklong vacation visit to his wife's native land turned into a four-month stay. Dukich decided to share his love of the country's people, culture and natural beauty.

The title song, penned by Michael Franks, sets the mood. Tranquil and engaging, it features Dukich's down-home vocal and some George Duke-like keyboard work by Nick Rolfe. Dave Stryker adds acoustic guitar.

Dukich sings some songs in English but several in Brazilian Portuguese. For Antonio Carlos Jobim's "Agua De Beber," he begins the first verse in English, but switches to Portuguese for the chorus. Daughter Lilly Dukich is among the background vocalists. Famed Brazilian guitarist Romero Lumabo is part of the ensemble. Trumpeter Claudio Roditi and tenor saxophonist Don Braden also contribute.

Dukich counts among his inspirations such popular acts as Chicago, the Eagles, George Benson, Tower of Power, Peter White, Lee Ritenour, Gerald Albright and Chuck Mangione. His relations in Brazil turned him on to the styles of samba, bossa nova, pagoda, serteneja, axe and forro. Dukich sings all tracks, but he also plays trombone and flugelhorn on selected pieces.

Many North American pop, rock, blues and jazz artists have embraced Brazilian music over the years, whether including a Brazilian-styled song among everything else they're doing, or dedicating an entire project to the culture. Dukich joins a list that includes Duke, the Manhattan Transfer, Herbie Mann and many, many more.