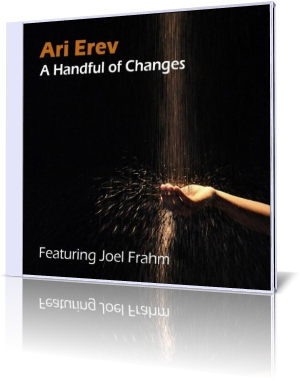 With a hint of Middle Eastern seasoning, sprinkled here and there, pianist/composer Ari Erev delivers a steady main course of jazz with A Handful of Changes (2012). The Israeli-born Erev takes some of the styles heard in his first album, About Time, and throws in a Latin vibe. The result is fresh and invigorating.
The variable supporting cast consists of saxophonist Joel Frahm, percussionist Gilad Dobrecky, bassist Arie Volinez, bassist Tal Ronen and drummer Eitan Itzcovich. Ofer Shapiro steps in with alto sax on one track and clarinet on another.
"Irit's Wave" begins slowly, softly – as in a waking interlude, led by the piano. The sax enters, and the intensity slowly builds. The pace remains constant, but the mood changes, as if daytime fully engages with a gentle breeze stirring the clouds. Frahm is out front much of the way, playing the tenor.
"Precious Present" has a samba vibe, with Frahm on soprano sax and Shapiro on alto. The intricate harmonies are what make this song tick. Another interesting track is the sequence of Chopin's "Prelude in E Minor, Op. 28, No. 4" combined with Cole Porter's "So in Love."
A Handful of Changes is a tasty meal for one's musical appetite. It's in that delicate zone between free improvisation that jazz lovers expect and delectable melodies that can be appreciated by the masses.