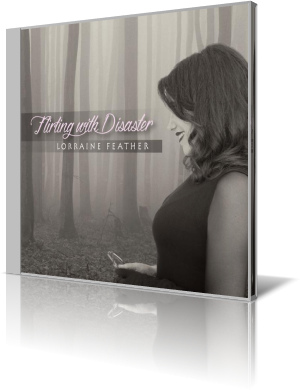 Singer/songwriter Lorraine Feather explores romance with the aptly titled, Flirting With Disaster (Jazzed Media, 2015).

Musicians performing on selected tracks are Russell Ferrante, piano and arranger; Shelly Berg, piano and arranger; Dave Grusin, piano and arranger; Michael Valerio, bass; Grant Geissman, guitar; Eddie Arkin, guitar and arranger; Michael Shapiro, drums; Gregg Field, drums; Carlos Del Rosario, percussion on "Wait for It"; Charles Bisharat, violin; and Yutaka Yokokura, additional vocals on "Feels Like Snow."

The title song, with music by Arkin and lyrics by Feather, is a surprisingly upbeat tune. Ferrante's piano and Geissman's guitar effects give the song a haunting, ethereal element. Bisharat's solo is brief but fiery. Feather sings of an attraction, giving in to one's passion, knowing that the individual probably will be swept away, and possibly lose a bit of self, but in the moment, not caring. Voice and instruments complement one another well, making this something of a symphony.

"Off-Center" is a slow, bluesy song. Arkin handles the acoustic guitar on this track. Feather sings of a relationship that always seems to have some quirk that makes things a bit unbalanaced. A couple that's not quite in sync. The music has a classic, film noir vibe.

"Wait For It" is a reinvention of Grusin's "Bossa Baroque." While the pianist plays his familiar melody, Feather sings her lyrics to a different counter-melody during the verses. Then she shifts to Grusin's theme during the chorus, which has a strong, bossa nova quality – perhaps a bit more so than Grusin's original.

Flirting With Disaster is distinctive in two ways. One, the lyrics are original, which audiences don't always get with vocalists. Two, the entire set is built around romance and the risks that come with it. Feather says she had never done an album that had a tagline. For this one, the line is, "Any time you fall in love, you're flirting with disaster." The release follows three consecutive Grammy-nominated recordings, and is Feather's 11th album. Feather penned all 11 tracks, in collaboration with Arkin (four), Ferrante (three), Berg (two) and Grusin (two). The daughter of Leonard Feather and goddaughter of Billie Holiday, Lorraine Feather has been heard on numerous records, in films and on television. Among her screen credits are Disney's Dinosaurs, The Jungle Book 2 and The Princess Diaries 2; MGM's All Dogs Go to Heaven and Babes and Toyland; and Hasbro's Candy Land and My Little Pony. Her work as a lyricist has earned seven Emmy nominations.

The CD includes a booklet that has lyrics to all 11 songs, and Feather's commentary on each track.