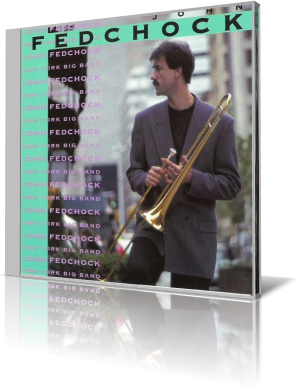 The Big Apple, as it's called, New York City is ripe for post-swing, large jazz ensembles. The John Fedchock New York Big Band captures that element with Like It Is (MAMA Records, 2015).

Composer, arranger and trombonist Fedchock leads the ensemble. The other musicians are Mark Vinci, alto saxophone and flute; Charles Pillow, alto and soprano saxophones; Rich Perry and Walt Weiskopf, tenor saxophones; Gary Smulyan and Scott Robinson, baritone sax; Tony Kadleck, Craig Johnson, Scott Wendholt, John Bailey and Barry Ries, trumpets and flugelhorns; Keith O'Quinn and Clark Gayton, trombones; George Flynn, bass trombone; Allen Farnham, piano; Dick Sarpola, bass; Dave Ratajczak, drums; and Bobby Sanabria, percussion on selected tracks. The baritone sax duties are split with Smulyan on six tracks, and Robinson the other four. Ries is the only trumpet/flugelhorn player to appear on all tracks. The others mix and match, ensuring there are three on each song.

A drum ad-lib opens the bright, bouncy "You and the Night and the Music." The horns are like a miniature orchestra, with the different groups joining for melody of overlapping phrases. After the main theme, Fedchock stretches out, followed by Vinci and Perry. Beneath it all, the rhythm section remains firmly engaged, with Ratajczak standing out a bit.

"Just Sayin'," one of five Fedchock originals, is another bright, bouncy piece. It would fit perfectly in a swing dance competition. Fedchock says the song is an expansion of something he wrote for his NY Sextet and has some influences of Wayne Shorter's music. Pillow's soprano is compared to Shorter's style. As with other tracks, the solors are brilliant, but you should not get too caught up in what the leads do. You might miss something in the background. Example, when the music softens just before the end, the piano is out front but there are some interesting things going on with the horns, bass and drums.

Fedchock was born in Cleveland, Ohio. He began his career in 1980 as a member of Woody Herman's band. He was featured trombonist, musical director and chief arranger for Herman's last two Grammy-nominated albums. Like It Is is the John Fedchock New York Big Band's fifth album, and Fedchock's eighth as a leader. Extensive liner notes include Fedchock's comments about each song.