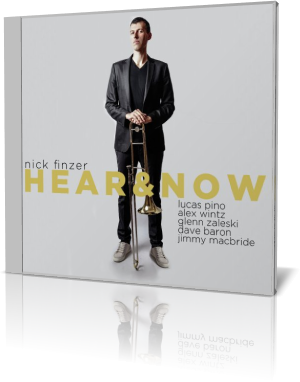 The year 2017 so far is shaping up to be one of statements. Delfeayo Marsalis and Noah Preminger have already released protest albums, inspired at least in part to the U.S. presidential election in 2016. Now comes trombonist Nick Finzer with Hear & Now.

With Finzer are Lucas Pino, tenor sax and bass clarinet; Alex Wintz, guitar; Glenn Zaleski, piano; Dave Baron, bass; and Jimmy MacBride, drums.

"The Silent One" is moderately paced. The melody consists of overlapping phrases, with Finzer and Pino going one way, and Wintz another. After the opening sequence, Finzer steps out front while Wintz shifts into rock power chord mode in the background. About midway through the interlude, the guitar shifts back into jazz. Pino then takes the tenor on a jaunt, with some hardcore background play by Zaleski, Baron and MacBride. Finzer comes back in what for a moment seems like a competing solo, but he and Pino seamlessly weave back toward the main theme, setting up the placid finale.

"Race to the Bottom" is a frantic, high-energy piece. The opening sequence features trombone, guitar and sax in lockstep. Then, Finzer stretches out with several rapid-fire lines. The artist says this is a reaction to cutthroat capitalism. "You either need to be the cheapest or the best because people don't really pay attention to the middle," he says. "So you're either in a race to the bottom, or you're trying to create something meaningful. To me, it's about the value of creating something unique and special, because there's no way you're going to win that other battle."

Finzer composed eight of the album's nine songs. The lone cover is Duke Ellington's "Single Petal of a Rose."

From the opening track, "We the People," to the closer, "Love Wins," Finzer and company capture a variety of moods, and present them in ways that reflect action, reflection, anxiety and joy.

"I wanted to capture feelings I was having about our country's social framework," Finzer says of Hear & Now. "I started out trying to write about the emotional feeling of living in New York in 2016, but as the presidential election went on, I realized the stances I was taking were more politically oriented."

Finzer is a native of Rochester, New York. He studied at the Eastman School of Music and at Julliard. In 2011, he won the Eastern Trombone Workshop's National Jazz Trombone Competition, and he won the ASCAP Young Jazz Composer's Award in 2013 and 2015. Stage and studio associations include Wynton Marsalis' Jazz at Lincoln Center Orchestra, Lucas Pino's No Net Nonet, and Ryan Truesdell's Gil Evans Project.

Hear & Now is Finzer's third album as a leader.