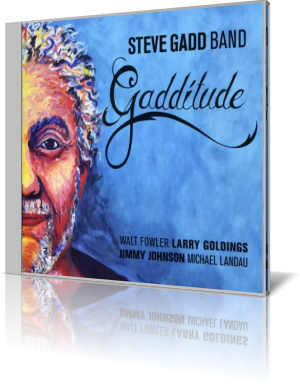 When asked to name the greatest jazz drummer, the traditional listener might mention Buddy Rich, Gene Krupa or Max Roach. More contemporary listeners would likely mention one or more of the following: Peter Erskine, Vinnie Colaiuta, Harvey Mason, Alex Acuna, Terri Lyne Carrington or Steve Gadd.
A longtime session player who has also fronted his own band, Gadd has an extensive recording history that cuts across genres. A short list of his associations include Maynard Ferguson, Paul Simon, Eric Clapton, Chick Corea, Al Di Meola, Stanley Clarke and Chuck Mangione. It is Gadd's thrill-a-second fills during the ad-lib fade of Steely Dan's "Aja."
Gadd has assembled a talented ensemble of artists for
Gadditude
(BFM Jazz, 2013). The band consists of Walt Fowler, trumpet and flugelhorn; Larry Goldings, keyboards; Jimmy Johnson, bass; and Michael Landau, guitars. The five musicians have performed together as the touring band for James Taylor.
Arnold McCuller and David Lasley add background vocals for two songs.
The set begins with "Africa," written by Landau. Gadd is subtle underneath the guitar and muted trumpet. The piece has a haunting, ethereal sound with solid contributions from all five players.
"Green Foam" has a jaunty, blues juke house vibe. With all five members of the band contributing to the composition, it's like a straight jam. About a minute and a half into the piece, the band shifts into a mixed time, with some going at this rhythm and others going that way, then reverting back to the main theme. Goldings solo has hints of the organ from Booker T. and the MGs' "Green Onions." The band downshifts again, this time for a slow, almost gospel-themed interlude, with Landau stretching out.
Unlike some of his previous outings as a leader, like
The Gadd Gang
, Gadd doesn't put himself out front on
Gadditude
. Instead, the leads are mostly by Fowler, Goldings and Landau. Gadd is content to remain in the background, which works for this project. The writing and group play are solid throughout.