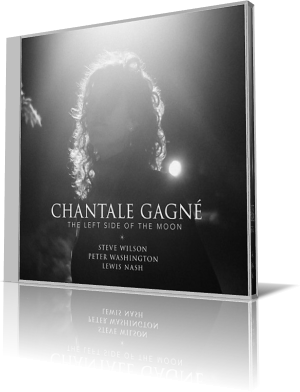 Rod Serling would love this. Pianist Chantale Gagne takes us on a trip whose boundaries are that of imagination with The Left Side of the Moon (2015).

She's accompanied by bassist Peter Washington and drummer Lewis Nash, who both appear on Gagne's earlier releases, Silent Strength (2008) and Wisdom of the Water (2010). Joining them for this trek is saxophonist Steve Wilson.

The introduction to "After You" is like something out of the classical music catalog, featuring Gagne on solo piano, joined by Wilson's alto. Then Nash enters in high gear, turning this into a fiery, high-energy piece. Wilson leads much of the way, put the sax through a series of frantic rolls. Gagne then takes point, tickling the keys in a way to get the head bopping and the toes tapping. Bass and drums are firmly locked in throughout.

"No one knows what the future holds," Gagne says in explaining her thoughts behind the title song. "Oftentimes, we don't know why certain things happen, but I believe we have to trust that they happen for a reason, and that we are here on Earth to learn something from these experiences." The song goes through multiple stages. Slow, brooding and tranquil during the beginning, then intense, hard-charging and full of energy later. Wilson opts for the soprano on this journey, stretching out aplenty during the upbeat segment. A mellow dialogue between piano and sax ends the piece.

Gagne is a native of Quebec, Canada. She composed 10 of the 11 tracks on The Left Side of the Moon. The lone remake is "A La Claire Fontaine," a traditional children's ballad.