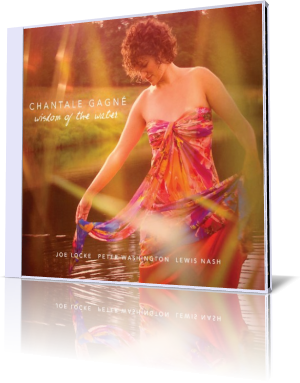 Recipient of a major award in her native Canada, pianist/composer Chantale Gagne is establishing herself as one of today's new voices of jazz.

She follows up the popular Silent Strength (self-produced, 2008) with Wisdom of the Water. Joining her are drummer Lewis Nash, bassist Peter Washington and vibraphonist Joe Locke.

The title song is a moderately paced piece in 3/4 time. Gagne and Locke carry the sweeping melody. Underneath the leads, Nash mixes syncopated rim shots with subtle snare rolls. The intensity picks up during Locke's middle solo. The vibraphone sails through this section, maintaining the tranquil yet energetic mood. Gagne follows in like fashion, starting softly but picking up the energy as she goes. After the band repeats the main theme, Washington closes out the selection by himself.

The introduction to "Squinky Petie" is a delightful duet by Gagne and Locke. The rest of the band comes in as the lighthearted song takes off. Locke carries the lead, running the mallets through a vigorous workout. A highlight of the piece is a spirited call and response between Nash and the others.

A native of Quebec, Canada, Gagne began studying music at the age of 8. Piano became her passion at 15. She met pianist Kenny Barron in 2005, which led Gagne on her path to playing jazz. She has performed in Canada, the United States and Europe, and her music is being played worldwide.

Wisdom of the Water presents Gagne with a mixed package of sound that at times borders on classical and is consistently pleasant.