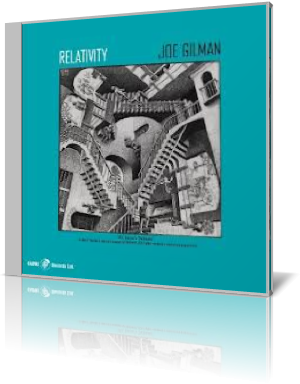 Like anything in life, visual art can inspire song. Joe Gilman captures that thought with Relativity (Capri Records, 2012), a set of 11 compositions that interpret the art of M.C. Escher.

Gilman, music director of the Brubeck Institute's Fellowship Program, says, "Visual arts and music have been sympathetic forces for generations, as evidenced by Cage and Rauschenburg, Granados and Goya, Rachmaninoff and Boskin, Corea and Piccaso. The work of M.C. Escher seemed naturally appealing; his pieces all contain a unique awareness of the world that reflect his intellect and imagination."

Accompanying the pianist are Nick Frenay on trumpet and flugelhorn, Chad Lefkowitz-Brown on tenor saxophone and bass clarinet, Zach Brown on bass and Corey Fonville on drums.

"Three Spheres," the first of 11 tracks that reinforce the concept of the album title, is straightforward, with the horns blending on the melody, backed ably by the rhythm section. It's an upbeat groove that allows the musicians to roam freely. Fonville's subtle work on the cymbals is effective throughout.

"Covered Alley" is a short piece that highlights the horns. Tranquil and easygoing, Frenay leads with Lefkowitz-Brown carrying an overlapping response. "Encounter" seems a natural follow-up. Muted trumpet and saxophone set the mood for an important meeting, perhaps an investigator and an informant on a street or inside a building near the alley we just left. The bouncy rhythm hints that progress is being made on the case. Gilman plays the Fender Rhodes electric piano in the background before switching to acoustic piano for his middle solo, complemented by Brown and Fonville. Eventually, the investigator is satisfied and happily strolls away – signified by the transition to an upbeat, sunny rhythm.

Gilman has been primary pianist for vibist Bobby Hutcherson since 2006 and has performed with an array of other musicians, including Eddie Harris, Woody Shaw, Marlena Shaw, Richie Cole, George Duke, Chris Botti, Russell Malone, David "Fathead" Newman and many others. Relativity scores on all pieces, with each song representing a different interpretation of Escher's work.