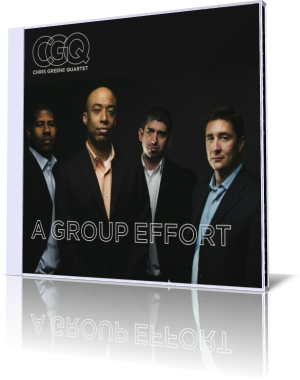 When music is unpretentious, it's easy to love. A Group Effort (Single Malt Recordings, 2012), a live recording by the Chris Greene Quartet, doesn't pretend to be anything other than what it is. It's jazz, plain and simple. No trendy or gimmicky elements intended to appeal to a demographic that otherwise would not listen to jazz. Just music that sings.
The Chris Greene Quartet has a reputation for crossing over, reaching music lovers who were raised on pop. But doing it in a way that doesn't compromise what they're about is remarkable. Greene plays saxophones. His companions are Damian Espinoza on piano and keyboards; Marc Paine on double bass; and Steve Corley on drums and percussion.
"Bride of Mr. Congeniality" is a bouncy piece that sets things off. A Greene original, it runs at 10 and a half minutes, the shortest of six tracks. Greene's tenor leads most of the way, with significant contributions by Espinoza and Corley.
"Three & Six" begins softly with Greene on soprano. About three minutes in, Espinosa begins an electronic groove that's the closest thing to pop in this recording. The band picks up on it, delivering a sound reminiscent of what one might have expected from Bob James or Biff Hannon in the 1970s. Yet even with its pop quality, the song never loses its sense of freedom.
The concert was held on October 27, 2011, at the Mayne Stage Theater in Chicago.
Greene was born in Evanston, Illinois. He began playing sax at the age of 10. He was a member of the Trippin Billies, a tribute band that covered the music of Dave Matthews. Of crossing over, Greene says, "People who have this idea that they don't like jazz – or that it's all Kenny G or Dixieland (with nothing in the middle) – turn out to like what we're doing."