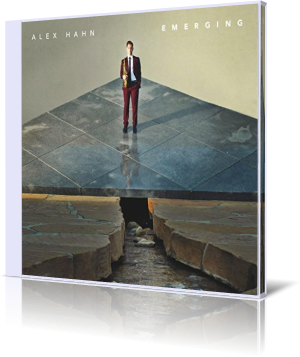 Itís fresh. Itís invigorating and at the same time calming. Itís Alex Hahnís sophomore release, Emerging (2017). The title could be a testimony of the recording artistís status. The sound culls elements of jazz, symphony, cinema and instrumental soul.

Hahn plays alto and soprano saxophones. Other musicians are Ramsey Castaneda, tenor saxophone; Jon Hatamiya, trombone; Simon Moullier, vibraphone and synth; Paul Cornish, piano; Logan Kane, acoustic bass; Colin McDaniel, drums; Connor Kent, percussion; and The Andrew Tholl Strings.

ďLong AgoĒ opens softly with a moderate piano. The soprano comes, soon after joined by other instruments. With the trombone and sax blending, the mood quickly warms up, enhanced by the thunderous play of McDaniels. Things then settle down for a lively, yet tranquil theme. With Hahn out front on the alto, piano, bass and drum fill between phrases, resembling a call and response but with other voices whispering across the room. Hahn really stretches out on this piece, and as his mood becomes more intense, the supporting players become more of soundscape. Mouller then takes point on the vibes. The horns come back during the climax, setting up a return to the main theme and the fade.

The title song lulls you into a false sense of calmness. Soprano and piano open in a mood thatís at once elegant, romantic and representative of a wakening spirit. With the bass, drums, string synth coming out, it becomes more adventurous Ė as if embarking on a long journey. Cornish adds to the beauty during his solo, followed by an expressive Hahn. After a swell, the song reverts to its peaceful state, a return to slumber for the spirit.

Whether fast or slow, each track has a haunting, ethereal quality. Even the upbeat closer, ďPsychadelic Sun,Ē with its dance club groove. The set showcases Hahnís skill is a musician, a composer and a leader.

Hahnís stage and studio associations include an array of jazz talent, among them Herbie Hancock, Esperanza Spalding, Bob Mintzer, Peter Erskine and John Clayton. He is a six-time Downbeat Magazine Award winner, three-time Next Generation Jazz Festival Outstanding Soloist and earned other accolades. His studies include University of North Texas and the University of Southern California, where he was a graduate student and teaching assistant under Bob Mintzer and Jason Goldman. At the time of this release, Hahn was a student at the Thelonious Monk Institute of Jazz, under the direction of Herbie Hancock and Wayne Shorter.