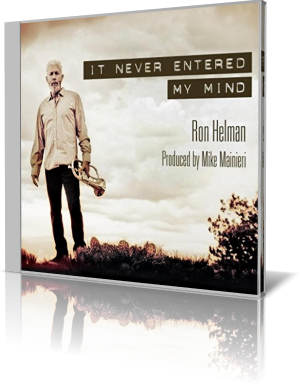 The music is billed as autobiographical, but it's something Ron Helman hopes everyone would be able to apply to life. The flugelhorn player remakes some standards, accompanied by an all-star cast of luminaries, on It Never Entered My Mind (Ron Helman Music, 2016).

Mike Mainieri produced the record and plays vibraphone, as well as contributes some arrangements. Grammy winner Rachel Z Hakim is on piano, bringing with her touring experience with Wayne Shorter and Herbie Hancock. James Genus, whose discography and concert appearances includes stints with Bob James and Terri Lyne Carrington, is the bassist for the television series "Saturday Night Live." Joel Rosenblatt, formerly of Spyro Gyra, is the drummer. Guitarist David Spinozza has played with three of the four Beatles and has a share in most arrangements. Steve Wilson plays soprano and alto saxophone. Vocalist Ann Hampton Calloway is special guest for "Born to Be Blue."

"Just Friends" is a finger-popping, head-bopping, toe-tapping groove. Its bright mood is sure to make you smile. Anchored by Rosenblatt's deft stick work and Genus' fingering, Helman sets the stage for this audio delight. Then he steps aside while Hakim and Wilson on alto offer engaging interludes.

Mainieri joins the ensemble for the equally bright "Close Your Eyes." Rosenblatt and Genus enjoy a bit of stretching out underneath the lead, as well as the solos by Wilson, Helman and Hakim. Mainieri's presence adds some seasoning to an already wonderfully flavored selection.
Helman says he wanted to make a record that is "immensely classic and playable over and over." It only takes a few tracks into the set for one to conclude that he has exceeded his goal.