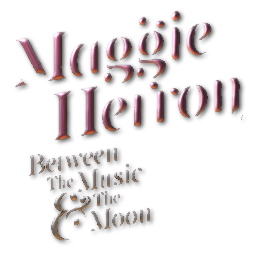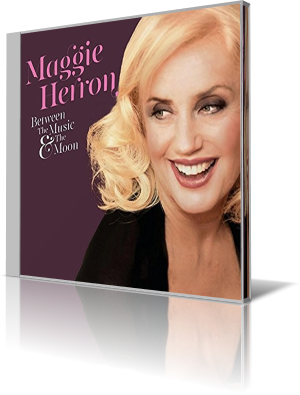 Events and locations are typically considered tourist attractions. But if it can be said that a voice is a draw, Maggie Herron fits the bill. But for those unable to travel to Hawaii to see and hear her in person, there is Between the Music and the Moon (2016).

Herron is accompanied in various lineups by Bill Cunliffe, piano; Grant Geissman, guitar; the horn section of Bob Sheppard, sax, Brian Scanlon, baritone sax, Bob McChesney, trombone, and Ron Stout, trumpet; Dean Taba, bass; Abe Lagrimas, drums; Denise Donatelli, harmony vocals; Alex Acuna, percussion; Ramon Stagnaro, guitar; DeShannon Higa, trumpet. Stout and Sheppard each appear on one track without the other horns, the former opting for flugelhorn.

The horn section gives a creepy introduction to "Wolf," a stealthy, stalking, swinging tune. Think film noir meets "Stray Cat Strut." Sheppard stretches out a bit during the middle break, with the other horns sounding like a mini big band.

"I Can't Get to Sleep" has a tick-tock, marching rhythm. Lagrimas doubles on drums and ukulele. Herron plays piano, with Taba providing the only other accompaniment.

Herron and company inject a little salsa with "Ritmo Latino" (or "Latin Rhythm"). With Acuna and the horn section in support, Herron delivers a romantic, yet lively dance song. A throaty trombone solo adds some spice.

Herron regularly headlines the popular Lewers Lounge in Honolulu, a destination for jazz aficionados. Her music is described as mesmerizing, hypnotic and sensual. Her sultry alto voice may have something to do with that.

All 12 tracks of Between the Music and the Moon are originals. Herron's daughter, Dawn Herron, wrote lyrics for seven songs. Herron calls it the best collaborative experience she's ever had. "Dawn knows me so well," she says. "We talked about the subject matter throughout the process. I admire her ability to get into the moment, shift gears, start over or blindside me."

The collaboration works as the music and lyrics are food for the ears.