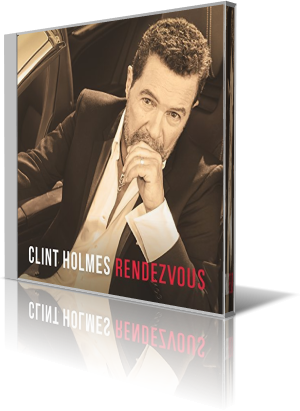 Singer-songwriter Clint Holmes reminisces about his youth, recalling the times he spent Sunday afternoons with his father at the Colored Musicians Club of Buffalo. That captures the essence of the title song to Rendezvous (LL Music, 2017).

A little historical context is needed to understand the venue's name. Through the 1960s and into the '70s, "colored" was the common term for African Americans, or black people, in the United States. Holmes' father was black, and his mother white.

"I was 12, and it was a true coming of age moment for me," Holmes says. "I had never seen my dad in this world. He worked three jobs and never seemed happy until I saw him in this element. I fell in love with jazz and how cool it felt to interact with those 'cats' the way my dad did."

Joining Holmes on this date are Shelly Berg, piano, keyboards and programming; Che Che Alara, keyboard; Dean Parks, Ramon Stagnaro and Dan Warner, guitars; Carlitos Del Puerto and Chuck Berghofer, bass; Gregg Field, drums and percussion; Tiki Passilas and Christian Tambour, percussion; and Bruce Dukov, orchestra concert master. Background singers are Patti Austin, Valerie Pinkston, Lynn Fiddmont, Lamont Van Hook and Nelson Beato. Special guests are Joey DeFrancesco, Hammond B3 organ on "At the Rendezvous"; Dee Dee Bridgewater and the Count Basie Orchestra on the medley, "I Loves You Porgy / There's a Slow Boat Leavin' Soon for New York"; Jane Monheit on "Every Time We Say Goodbye"; Ledisi on "Say Something"; and saxophonist Dave Koz on "What You Leave Behind."

"At the Rendezvous" is an autobiographical piece that lays out the development of Holmes' interest in jazz, the excitement of going to hear his father play. With an easygoing, finger-snapping rhythm, he reflects on when he was 12 and went to rendezvous to hear the music. Highlights hear are DeFrancesco on the organ, a solo by Field, and Holmes' scat. One thrilling exchange is when Holmes and Field engage in a call and response.

Holmes' voice and the orchestral arrangement set this cover of "Maria" apart from other renditions. The Bernstein / Sondheim collaboration gets new life. The way Holmes delivers, "I kissed a girl named Maria," can make the listener fall in love with the name, if not the West Side Story character.

Holmes emerged as a pop singer in the early 1970s with the hit, "Playground in My Mind." His credits include time as Joan Rivers' sidekick, a musical feature and event correspondent on Entertainment Tonight and his own Emmy award-winning talk and variety show. His vocal styling on Rendezvous may draw comparisons to Al Jarreau, particularly when he scats.

Holmes co-wrote three original songs to mix with this set of standards and show tunes. He says all of the songs are deeply personal, though universal.