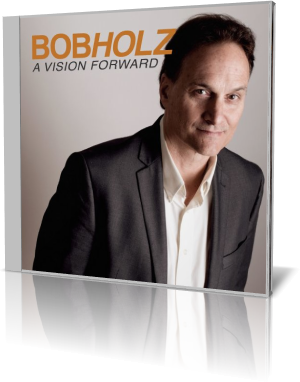 Drummer and percussionist Bob Holz has formed a new group, whose name inspires the title of their new release, A Vision Forward (MVD Records, 2016).

Holz is accompanied by a variable lineup comprised of the following: Larry Coryell, guitar; Mike Stern, guitar; Randy Brecker, trumpet; Ada Rovatti, sax on "A Vision Forward"; Billy Steinway, keyboards; Steve Weingart, keyboard solos on "Shooting Range" and "The Stand Up"; Bob Wolfman, guitar; John Viavattine Jr., bass on all tracks; Jesse Collins, alto sax; Tori Higley, vocals; John Viavattine Sr., flute, tenor sax and soprano sax; and Ethan Wojcik, trombone on "The Stand Up."

"A Vision Forward" is an upbeat groove. A three-instrument panel leads the bright, sunny melody. Solos are by Brecker, Rovatti and Steinway. The trumpet is muted in sections. The song has elements of fusion and funk, moving seamlessly between the two.

The flute leads the happy-go-lucky "Avalon Canyon." With contributions by Wolfman and Collins, this delightful piece is all about enjoying the moment. A little strut here and there doesn't hurt.

"Shared Sunsets" is a moderately paced song. Wolfman's guitar shares the lead with Steinway, augmented by Higley's haunting, wordless chant. Steinway and Viavattine Jr., the only players besides Holz who appear on all tracks, get their licks in. Collins steps in during the middle interlude, putting the alto through some vibrant tones. It's a beautiful soundscape that inspires visuals of a colorful evening sky. As the song winds down, Wolfman puts the strings through some blistering rolls.

Holz allows the Vision Forward members to do most of the talking on this record. He plays mostly in the background, though very prominent in his varied use of the kit and other instruments at his disposal. Instead of a dominant leaders, it's the combination of expert song selection, the dynamics of a group and the individual contributions of the various soloists that make A Vision Forward work.