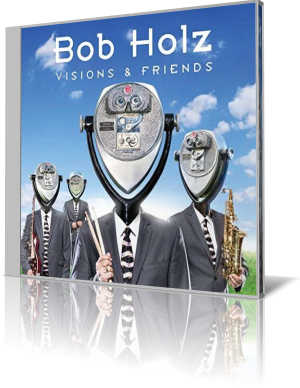 After scoring some success with A Vision Forward (2015), Bob Holz releases his sophomore effort, this time with some extra help. Visions & Friends (MVD Records, 2017) is a set of all-original music.

The players are Holz, drums and percussion; Larry Coryell and Alex Machacek, guitars; Ralphe Armstrong and Mike Schoeffter, bass; Randy Brecker, trumpet on "Flat Out" and "For the One"; Billy Steinway, keyboards; David Goldberg, saxophones; Tori Higley, vocals on selected tracks; Rob Stathis, accompanying piano on "Eleven High"; Zoe Stathis-Sandor, vocals on "Take It From Maurice"; and Scott Gerling, percussion on "Take It From Maurice."

"Flat Out" sets the tone for this set. This lively groove crosses the bridge between funk, fusion and instrumental rock. Brecker and Machacek are the stars, fronting the main theme and enjoying invigorating solos. Steinway and Schoeffter get their licks in as well. Holz keeps it all together, adding just the right touch to whatever is happening in the moment.

"Five Times the Winner" brings a laid-back, bluesy vibe. With Armstrong providing a cool bass line, the composer goes through multiple moods on guitar, shifting from a straight blues presentation to something out of a space travel movie. During one passage, two basses are playing at the same time, as Schoeffter injects a solo.

The ensemble cranks up the heat during the final minute, increasing both the pace and the intensity for a climactic ending.

Goldberg joins for the bossa nova "Last Stop." The saxophone carries the melody, with the accompanists delivering a sound that's for a romantic evening on the beach. It sets the image of a couple dancing in the moonlight with a cool breeze keeping things from getting too steamy.

Holz began his career in Boston, while a student at Berklee College of Music. He studied with Billy Cobham in New York and went on to perform with such luminaries as Robben Ford, Less McCann, David "Fathead" Newman, Maria Muldaur, Dr. John and George Clinton / Parliament Funk. Also joining Holz on tour is former Spyro Gyra guitarist Chet Catallo.

All 11 songs on Visions & Friends were written by members of the studio lineup. Holz contributed to six, including three he co-wrote with Steinway and one with Goldberg. Coryell composed three, and Steinway wrote two more. The second Holz / Steinway offering, "Take It From Maurice," is a tribute to the late Maurice White, founding member of Earth, Wind & Fire.