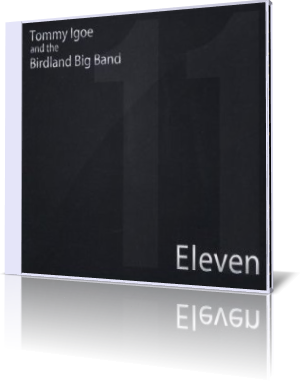 Playing his first set of drums at the age of 2, New Jersey native Tommy Igoe captured numerous awards in junior and senior high school. After touring with the Glenn Miller Band at 18, Igoe's career took off in the New York recording scene, including a stint as drummer for Blood, Sweat and Tears.

Now, Igoe brings together several of the region's finest musicians, the Birdland Big Band, for Eleven (Deep Rhythm Music, 2012). But rather than attempt to recreate the sound of a bygone era, Igoe assembles 11 big band arrangements of more recent compositions.

At the core are Igoe, pianist Kenny Ascher and Tom Kennedy on acoustic and electric bass. The band consists of five trumpets – two of them splitting the songs, three trombones and five saxophones and flutes. Three guests also make selected appearances, Rob Paparozzi on harmonica, Hector Martignon on piano and Rolando Morales-Matos on percussion and vibraphone.

Darmon Meaders's "New Ground," opens the set. This high-energy piece has a slight, Latin vibe with the percussion complementing the horns. Trumpeter Nick Marchione and tenor saxophonist Dan Willis carry the melody. Willis also delivers a blistering middle solo, putting the instrument through a series of rapid-fire phrases. Ascher contributes as well.

"Armando's Rhumba" is the first of two Chick Corea tunes. Featured players are soprano saxophonist Nathan Childers, baritone saxophonist Barbara Cifelli and Kennedy. The song's base rhythm continues underneath the solos, complemented by plenty of horn action. The second is "Got a Match." This Ted Firth arrangement sizzles. The trio of Ascher, Kennedy and Igoe start things off.

Also featured are Willis, Childers and Matt Hong on alto saxophones and trumpeter Glenn Drewes. The entire band stretches out on this one. The frenetic pace threatens a meltdown by the time they're done. It's about the time the listener figures everyone's had enough fun that Igoe takes over. The takeover is brief, however, as the full band engages in the stunning finish.

As the leader, Igoe passes on the opportunity to show off. He gets plenty done keeping the rhythm or in the background behind the leads. The band also jams to a few compositions by Michael Brecker, Herbie Hancock and Michel Camillo.

Igoe and the Birdland Big Band are a popular act, playing Fridays at the legendary Birdland Jazz Club in New York City. The leader says he's dedicated to bringing large-ensemble jazz to a new, 21st century audience. Eleven is an exceptional way to let those not in NYC to hear this dynamic group.




www.tommyigoe.com

www.facebook.com/tommigoe