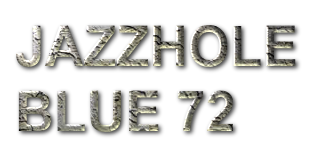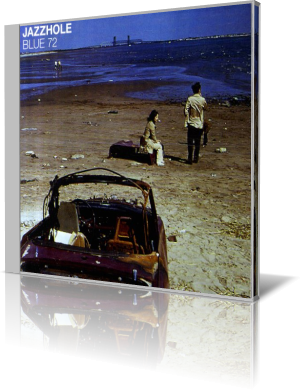 Many mainstream pop and soul hits eventually find their way into the hands of jazz artists. Not all interpretations are successful, but those that are can make a powerful impression. This is the direction Jazzhole takes with Blue 72 (Beave Music, 2014).

The group consists of Mark Robohm, drums; Scott Colley, acoustic bass; David Inniss, electric bass; Daniel Sadownick, percussion; John Pondel, guitar; Keith Slattery, Fender Rhodes; David Binney, saxophone; Gary Pozner, organ and Clavinet; Warren Rosenstein, organ; Sam Friedman, harmonica; and Peter Mark, additional percussion.

The concept of Blue 72 is to reimagine hits from the year 1972.

Normally, when I write a review, I pick two or three songs that stand out in some way. But I can't do that here. The music is just too bland. Apart from the first track, "Drowning in the Sea of Love," fronted by vocalists Michelle Lewis, the songs are little more than new recordings with somebody other than the artists of that year. Included in the set are "You're So Vain," "Run to Me," "Operator (That's Not the Way It Feels)," and "Rocket Man."

"Ventura Highway," performed by America, is an up-tempo song that conjures up images of a sporty convertible, zipping down a country road. Jazzhole's cover is closer to a school bus with a flat tire. Why would you take this great song and put the brakes on?

One could argue that it is pop music. But after hearing numerous jazz artists do instrumental and, in some cases, vocal interpretations of pop songs like Stevie Wonder's "Creepin'," the Beatles' "Blackbird," and Earth, Wind & Fire's "Can't Hide Love," sometimes with more fire than the original, one has to wonder what producers Marlon Saunders, Rosenstein and Pondel were thinking when they decided to use the same, first-gear approach to all nine songs.

This is about as critical of a review that I'll write. Normally, if I'm disappointed in an album, I'll skip it because my time could be better spent writing about something more exciting or just listening to what I like. But I decided to write this one anyway because there isn't a bad song on Blue 72. Each piece, weighed on its own, is a nice song. But collectively, there's too much sameness. Really, it's like sleepwalking. A horn or string section here and there would at least offer some variance. This is a good album if you're a fan of Jazzhole. But I can't imagine anyone who doesn't already follow the group wanting this.

Also, the 1970s is my decade. That's the time I grew into my own, regarding music. Several of the songs in this set were dear to me when they were hits. And all but a couple continue to receive a lot of airplay on mainstream radio as well as oldies channels. That adds to the disappointment. Jazzhole had a good idea, but the execution of that idea lacks energy and creativity. It's in desperate need of a few jam tracks. Some suggestions: "You Don't Mess Around with Jim," "Use Me," "Long Cool Woman" or "The Lion Sleeps Tonight." However, my fear is that if Jazzhold had chosen those songs, they'd use the same approach and still manage to make them lackluster.

Also, it wouldn't hurt to have an instrumental track or two instead of all vocals. The biggest problem I have with this is the songs are just too slow. All of them. Even where the 1972 recordings were mellow, they packed more punch than Jazzhole's presentation.

I'd love for Jazzhole to do a Blue 77 but with variance of mood and tempo. A few suggestions: "I'm Your Boogie Man," "Dancing Queen," "Whatcha Gonna Do?" "I Wish" and "Barracuda."