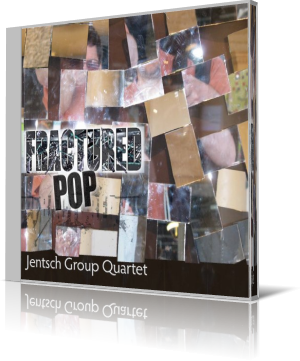 What happens when you do a lot of things well but don't want to focus on just one or two? One possible result is a sample of each, mixed, matched, melded and blended with various combinations of the others. In other words,
Fractured Pop
(2017) by the Jentsch Group Quartet.
The band features Chris Jentsch, guitars; Matt Renzi, tenor saxophone, clarinet and alto flute; Jim Whitney, double bass; and John Mettam, drums.
The music moves from jazz fusion to rock instrumental, from ambient jazz to something bordering on electronica, from structured to free-form. Each musician is solid in his performance. Jentsch spices things up by playing more than one guitar on some tracks and adding some distortion effects here and there. Highlights include "Fractured Pop," "Route 666" and "Meeting at Surratt's."
The package comes with a 75-minute audio CD, and a DVD that has four selections from a concert, alternate takes of a few songs, two slide show music videos and more.
Jentsch is a Brooklyn-based composer, bandleader and guitarist who works mostly in jazz and contemporary improvisation. He attended Berklee College of Music and has liberal arts degrees from Gettysburg College, New England Conservatory and the Eastman School of Music.
Jentsch composed all 11 songs on
Fractured Pop
. This is his fifth release as a leader.