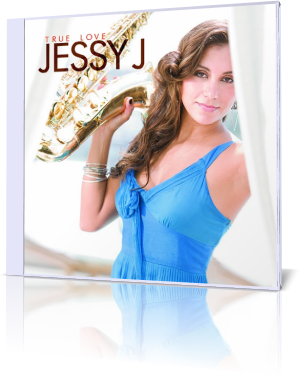 Following up her popular Tequila Moon (Peak, 2008), saxophonist Jessy J scores again with True Love. This 10-song set brings forth Jessy as a competent songwriter and arranger. Each song has a strong Latin or Brazilian vibe. Jessy J plays tenor sax on most tracks, but also adds soprano on some songs, and she sings. Her sidemen include producer Paul Brown on guitar, Gregg Karukas on keys, Roberto Vally on bass, Sergio Gonzalez on drums and Richie Gajate Garcia on percussion.
"Tropical Rain" is a Latin groove with Jessy doubling on tenor and flute. Karukas slips on some effective horn synths. Gonzalez's rim shots add a nice touch. But mostly, it's Jessy's lead that carries this track.
The title song is another Latin groove, punctuated well by Garcia's percussion. Vally lays down a cool, but subtle, bass line. Karukas works the acoustic piano for a change of pace, also mixing in some string synths. Brown contributes a brief guitar solo.
"Jessy's Blues" is a funky song that's more playful than moody. This track, perhaps more than any other, showcases the sidemen as more than just backup musicians – particularly Gonzalez, Garcia and Vally. Though playing well as a unit, each instrument comes through with flair. After a momentary downshift, the song picks up again, with Jessy's tenor expressing raw emotion.
Jessy J was born in Portland, Oregon, and raised in Hemet, California. Her father was born in Mexico, and her mother in Texas, giving Jessy a multicultural point of view, which comes through in her music. Though she played piano as a child, she turned to saxophone as her passion for jazz grew. After touring with the off-Broadway show, Blast!, Jessy checked out friend Jamie Tate's gig with Mindi Abair at the Newport Beach Jazz Festival, which ultimately led to her desire to record her own music.
With two cool releases under her belt, Jessy J is fulfilling that dream while entertaining fans around the world.