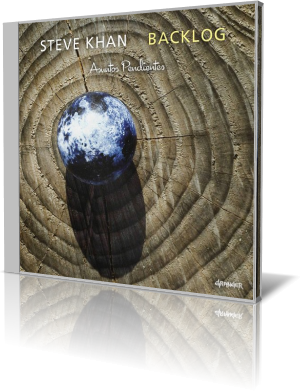 There was the stunning electric guitar solo on the disco-fueled, big band cover of the Star Wars theme with Maynard Ferguson. Then there was the beautiful end solo to Steely Dan's "Glamour Profession." And apart from those, there were guest appearances with numerous other artists, his partnership with keyboardist Rob Mounsey and a brilliant solo career. The point is, you see Steve Khan's name, you know what you're going to get: musical fulfillment. That tradition continues with Backlog (Tone Center Records, 2017).

Personnel on this date are Ruben Rodriguez, baby bass and electric bass; Mark Walker, drums; Marc Quinones, timbal, bongo and percussion; and Bobby Allende, conga and bongo. Guests appearing selected tracks are Randy Brecker, trumpet on "Latin Genetics"; Bob Mintzer, tenor sax on "Invisible"; Mike Mainieri, vibes on "Head Start"; Rob Mounsey, keyboards, orchestrations and orchestral arrangements on several songs; and Tatiana Parra, voice on "Catta."

Khan's treatment of Ornette Coleman's "Latin Genetics" presents a festive offering. Khan and Brecker are in unison for the melody. The rhythm section is as prominent here as the two leads, offering plenty of variety as they maintain the beat. Brecker and Khan take turns adding to the block party mood with extended solos.

Mainieri steps in for fellow vibist Bobby Hutcherson's "Head Start." The combination of guitar and vibraphone creates an ethereal element. Rodriguez's groove is felt throughout. And the trio of Walker, Quinones and Allende jam it up on their instruments.

Mounsey joins for Khan's take on "Go Home." With the percussionists doing their thing and Rodriguez delivering a cool bass line, Khan covers the Stevie Wonder vocal lead. Though this arrangement is mostly faithful to the original, Khan and his partners give it plenty of improvisational juice.

Though these aren't original songs, Khan makes them his own with fresh arrangements and, of course, his style of play. Several of the songs are also given Spanish subtitles, "Latin Genetics (Genetica Latina)" and "Go Home (Vete a Casa)," for example.

Over his career, Khan has skillfully moved from genre to genre, often within a session, hitting Latin or Afro-Cuban music, Great American Songbook standards, fusion and more. Backlog is his fifth solo release after a 10-year hiatus from recording as a leader. The others are Borrowed Time (2007), The Green Field (2005), Parting Shot (2011) and Subtext (2015).

Khan emerged on New York City's "downtown" scene in the 1970s, before his appearance on Maynard Ferguson's New Vintage (Columbia, 1977). But it was in 1981 when he released the first of three albums with a quartet named for the debut album, Eyewitness.