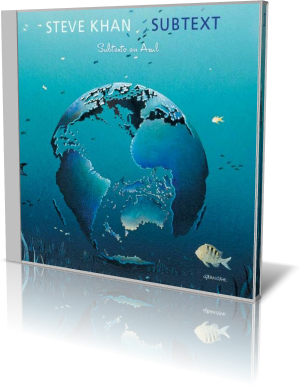 I've said on occasion that Steve Khan can do no wrong. Having heard his solos in performances with some of my old favorites, Maynard Ferguson and Steely Dan, I've come to know a different side of him as a solo artist. He never disappoints. Subtext (Tone Center Records, 2014) further validates the point.

The lineup is Khan; Ruben Rodriguez, electric bass and baby bass; Dennis Chambers, drums; Marc Quinones, timbale, bongo and percussion; and Bobby Allende, conga and bongo. Keyboardist Rob Mounsey performs on a few tracks and handles orchestrations for several others.

Special guest Randy Brecker plays flugelhorn on the first track, "Bird Food (Comida para Pajaros)," an Ornette Coleman remake. Quinones and Allende get quite busy beneath the leads as Khan and Brecker carry the melody. After the opening sequence, Brecker delivers a bright, sunny solo. When it's his turn, Khan moves seamlessly between single notes and chords. Guitar and flugelhorn blend for tightly syncopated phrases several times during this piece.
"Blue Subtext," one of three original songs on this date, has a placid, tropical vibe. Mounsey comes through a bit more. Khan puts the guitar through a few high-speed passes, yet he does it in such a way as not to sound like he's speeding up the song. That mellow, easygoing feel is present throughout.

After an instrumental take on the ballad, "Never Let Me Go," Khan enlists the voice of co-composer Mariana Ingold for "Cada Gota De Mar" – translated to "Each Drop of Ocean." Gil Goldstein joins the cast with the accordion. It's a lively, charming, South American piece.

The entire set of Subtext has a South American feel, given the Latin-American musicians and heavy dose of percussive instruments. It's also part of the continuing statement that is Steve Khan. And to make it, he draws upon fresh interpretations of songs by Coleman, Freddie Hubbard, Wayne Shorter and Thelonious Monk, among others.